Imagine if the president of your company asked you to stop what you were doing to leave a voicemail for someone who has had a positive influence on your life or career. Imagine learning specific details on how you can help achieve your company's goals in 2016 by getting a hands-on introduction to new innovative tools, products and services. Imagine hearing from industry experts and different client representatives about their vision for the future of the life insurance industry and the role of laboratory testing and collection.
This "Imagine" theme was carried throughout the three-day gathering of sales, operations and affiliates at the 2016 ExamOne Convention in Hilton Head Island, February 9-11.
The meeting kicked off with industry experts Hank George and Eric Hjerpe helping employees "imagine" the future of the industry during the keynote session and discussed how insurance companies, producers, partners and applicants will change and adapt. ExamOne President, Troy Hartman, also outlined the blueprint to meet company goals and continue our growth in 2016.
"Last year was a record year for ExamOne in terms of growth and innovation," said Troy. "I'm proud of everything we accomplished and was inspired by the positive energy, visionary conversations and genuine excitement around our 2016 initiatives. Our people and culture make it easy to imagine a future in which ExamOne continues to lead our industry in applicant experience, reducing cycle time and facilitating precision underwriting."
In addition to breakout sessions on product releases, new business partnerships and internal tools to help us continue to innovate, ExamOne took time to celebrate the successes of 2015. Our top performing employees, teams and offices from across the country were recognized at an awards ceremony Thursday evening.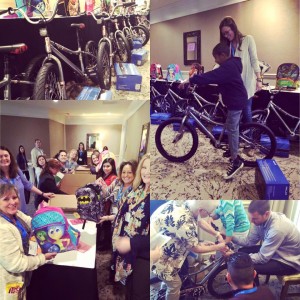 This year, ExamOne also expanded our annual tradition of "giving back" by building 18 bikes and backpacks full of school supplies and donating them to underprivileged children. Working with The Salvation Army and Bikes for Goodness Sake, the completed bicycles, corresponding helmets and thousands of school supplies were presented to local families on site.
"I know what it's like to be on the receiving end of something like this, and I know that we helped change those children's lives today. I am so proud to be part of a company that cares for others like this and I truly think it's the best thing we've ever done," said Charlotte Wallace, ExamOne office Branch Manager in Austin, TX.
At the conclusion of the meeting, employees were sent home with instructions to help motivate and educate the rest of their teams on how everyone is empowered to help meet company objectives.
"My team and I were inspired, motivated and left the convention not only better professionals, but better people," said District Sales Manager, Matt Bartkowiak. Imagine that all attendees left feeling this way. If we accomplished that, then the ExamOne 2016 Convention was a success.