Laboratory testing is a vital piece of the underwriting process when issuing policies to life insurance applicants.  The quality of the laboratory chosen by an insurer should be strongly considered when making that choice.  There is risk involved in the decisions made by underwriters based on the laboratory results of an applicant.  Inaccurate results could place applicants in the wrong risk pool, skewing their rating.  Additionally, the relationship that the applicant has with the Insurer should also be considered.  Inaccurate results could diminish the trust and confidence between the applicant and the insurer, potentially putting the policy at risk. 
 All Labs Are Not Created Equal
The leading laboratory accreditation quality organizations (CLIA and CAP) do NOT specify any accuracy targets for laboratory testing.  Many laboratories promote a 95% to 99% accuracy target on their laboratory testing.  While that sounds like an appropriate level of accuracy, we would like to detail the difference between other laboratories and ExamOne (a subsidiary of Quest Diagnostics), currently operating at a level beyond 99.99%,  approaching 99.9997% Six Sigma targets.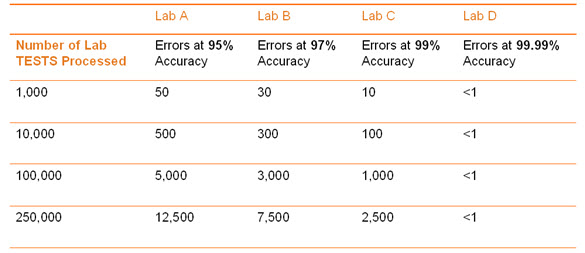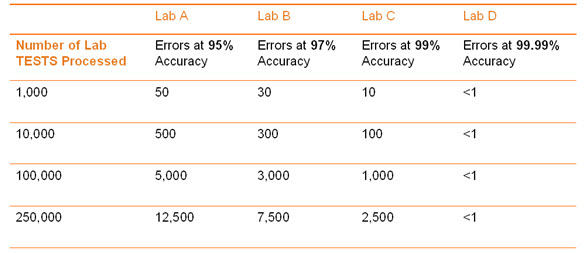 The graph above depicts the number of errors each laboratory will generate based on their accuracy ratings. For a laboratory operating at 95% accuracy, one in 20 tests will contain an error. Statistically, that's an error on every insurance laboratory report. And the worst part is – you won't know where the error lies.
 Six Sigma
Six Sigma quality with 99.9997 % accuracy targets cannot be obtained by just meeting minimum state and federal laboratory standards.  Other laboratories may use these standards as the sole basis of their quality program, but at ExamOne you can be assured of the significant efforts we engage in to meet Six Sigma standards.  In addition, our 800 scientific professionals who are located in our 28 Quest Diagnostics clinical laboratories are always here to assist you.