–ExamOne Marks Life Insurance Awareness Month in September
LENEXA, Kansas, August 30, 2013 – ExamOne, a leader of laboratory testing, underwriting and paramedical services to the life insurance industry, is supporting Life Insurance Awareness Month, organized by the Life and Health Insurance Foundation for Education (LIFE). During the month of September, the LIFE Foundation is highlighting the need for financial security among America's households and the role of life insurance in meeting this need.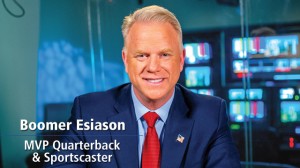 The LIFE Foundation is featuring Boomer Esiason, former record-setting NFL quarterback and current Sportscaster, as part of this year's campaign. Esiason's mother died without any life insurance when he was only 7, leaving his father to care for his family alone.
"ExamOne has been supportive of Life Insurance Awareness and we have been dedicating more and more resources to support our clients in this regard," said ExamOne President, Troy Hartman. "We have helped the life insurance industry make great strides in efficiency and improving the experience of their applicants when they are getting insurance. Life insurance is too often an overlooked element in financial security for consumers and people need to be reminded of its value; so, we are glad to be joining about 100 of our partners to help in this initiative."
ExamOne has been dedicated to simplifying the process for the applicant and is the first in the industry to have a website devoted solely to the applicant. This website offers tips and a video on how an applicant can prepare for their paramedical exam, answers frequently asked questions and provides instructions on how they can obtain results of laboratory testing performed on them through its product, Inside Look*™.
There is a section on ExamOne's website (ExamOne.com/life) dedicated to Life Insurance Awareness Month that links with the LIFE Foundation site.
LIFE is a nonprofit organization dedicated to helping consumers make smart insurance decisions to safeguard their families' financial futures.
About ExamOne
ExamOne has provided a portfolio of services to the insurance industry since 1972. It has grown significantly through continuous innovation that meets the evolving needs of life, health and disability insurance providers and their customers. Laboratory testing was part of the company's original services which over time have expanded to include paramedical examinations, fraud detection, electronic data collection, and gathering attending physician statements and motor vehicle records. ExamOne also has expanded into helping individuals learn about their own health through its Inside Look™ product. (examone.com/our-solutions/inside-look)
 *Based on carrier participation