Today, personal history interviews are completed when the Call Center interviewers dial an applicant's phone number hoping to reach them and complete a medical questionnaire. In 2021, approximately 81% of these outbound teleinterview calls went unanswered.2
To better reach these life insurance consumers, ExamOne offers a texting solution for our telephone underwriting workflow that will send SMS texts to applicants for the first contact attempt to complete their phone interview. This will free up our interviewer's time to focus on what they do best: obtaining health history from applicants.
The following Q & A may help familiarize you with the benefits and technical details of the program. Let's ask the expert, Yona Wright, a few important questions.
How does the texting program work?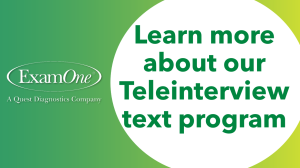 Applicants will get a text message that contains the Call Center phone number allowing the applicant to initiate contact with the interviewer. A valid mobile phone number must be provided in the order.
What are the benefits?
Communicating with applicants via text message will allow them to initiate their interviews when it is most convenient for them. We found that texting helps reduce turnaround time by half a day and increases completion rates by 10%.2
When are the text sent?
Text messages are automated and are sent between 8:00 AM and 8:00 PM. specific to the applicant's time zone. And they have the option to opt-out at any time.
What types of texts are sent?
The welcome message contains standard information on message/data rates and frequency and how to opt-out and get help. The subsequent message contains the carrier's company name, the call center client-specific phone number and call center hours, allowing the applicant to initiate contact with the interviewer.
Do you provide an opt-out option?
Yes. Our text message campaign allows recipients to opt-out of receiving texts. When the recipient texts STOP, they will be unsubscribed and will no longer receive text messages to their phone number from ExamOne.
What are the hours for applicants to call back?  
From 8:00 AM to 11:00 PM Mondays to Thursdays, from 8:00 AM to 9:00 PM Fridays, and 8:00 AM to 4:00 PM Saturdays. This information is provided in the text message as well.
How do I know my applicant's phone call will be answered?
We have 300 experienced call center staff members ready to assist!
If there is an exam required, will you also text the applicant?
Yes. Learn more about this texting program here.
Want to learn more or have this offered to your applicant?
Please feel free to reach out to Yona Wright at Yona.M.Wright@examone.com; your Strategic Account Executive; or your Account Manager. We would love to discuss further how our innovative Call Center capabilities and data collection options could best fit your business needs.
1Based on analysis completed by ExamOne or orders completed in 2021.
2Based on analysis completed by ExamOne or orders completed between April 2022 – March 2023.