After the indulgence of the holiday season, many Americans resolve to start the new year off on the right foot with a commitment to a healthier diet and more exercise. Adopting a healthy lifestyle takes time and commitment, but even making small changes can help lower total cholesterol, which can have a big impact on overall health.
High total cholesterol doubles the risk of heart disease, the leading cause of death in the United States. By narrowing the arteries and reducing the flow of oxygen-rich blood, high cholesterol can also lead to strokes.
The American Heart Association (AHA) estimates that about 38% of American adults have high cholesterol (total blood cholesterol ≥ 200 mg/dL).
But because high cholesterol itself has no signs or symptoms, many people don't know that they might be at risk.
Incorporating a health exam into the life insurance application process helps insurers identify unknown or undiagnosed conditions in applicants. And the best tool for measuring cholesterol is a blood test with a lipoprotein profile.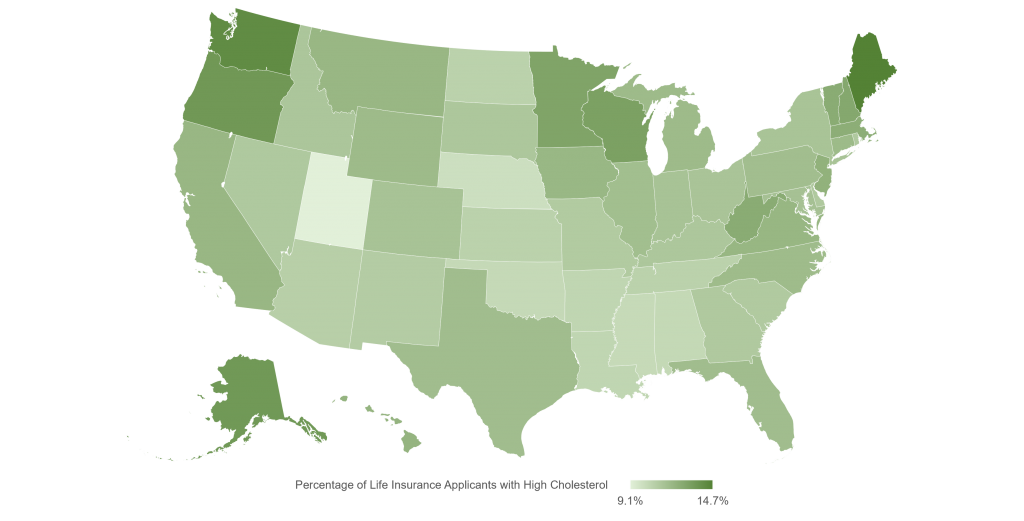 Prevalence of high total cholesterol among life insurance applicants
In a recent analysis, we discovered that 31.9% of all ExamOne life insurance applicants in 2020 had high total cholesterol (greater than 200 mg/dL), showing that applicants on average have lower rates of high cholesterol than the general U.S. population.
The rate of high total cholesterol (greater than 240 mg/dL) among applicants varied significantly by state, Utah was lowest at 9.1%, while Maine was highest at 14.7%.
High cholesterol isn't just a problem for men. Female applicants were slightly more likely to have high total cholesterol (greater than 240 mg/dL) at 11.8%, compared with 11.4% of male applicants.
Insurers can support applicant health awareness by offering laboratory results to the applicant as part of the application process, such as ExamOne's Inside Look® online laboratory results. Helping applicants identify risk factors they may not be aware of can help encourage conversations with their physician on ways to manage their risk and improve their health.
Healthy choices to prevent and manage high cholesterol
High cholesterol is an ideal target for preventing heart disease and stroke because it can be managed through therapeutic lifestyle changes such as:
Choosing healthy foods — Limit foods that are high in saturated or trans fats, sugar, and sodium (salt). Choose foods high in fiber, such as fresh fruits and veggies, and in unsaturated fats, such as avocados and nuts
Staying physically active — Get at least 2 hours and 30 minutes of moderate exercise, such as biking or brisk walking, every week
Quitting smoking — Smoking damages the blood vessels and greatly increases the risk for heart disease and stroke
Taking medicine if necessary — A healthy diet and physical activity can help many people reach healthy cholesterol levels, but some people may need medicines to lower their cholesterol. Always take your medicine as prescribed
While the pandemic may have driven a decline in preventive and medical care, it has heightened interest in life insurance. The new year is a perfect opportunity to review your life insurance status while setting health goals like monitoring cholesterol.
Consumers can find out more about the life insurance health exam process that may also provide current laboratory results at MyExamOne.com. And organizations can contact ExamOne to learn more about incorporating online laboratory results for life insurance applicants or mobile phlebotomy services for wellness programs.