In November, ExamOne celebrated an exciting milestone: 100,000 completed year-to-date paramedical exams in our PSCs. This impressive number is a testament to life insurance clients and applicants capitalizing on the convenience, safety and availability of the national network that has remained open and strong during the pandemic.
"Life insurance exams being performed at PSCs are at an all-time high. We are very proud to reach this milestone and pleased to offer life insurance applicants the convenience of choice not found anywhere else in the industry. We appreciate everyone's dedication to ensuring the highest levels of service for our customers and consumers." said Joey Grant, ExamOne President.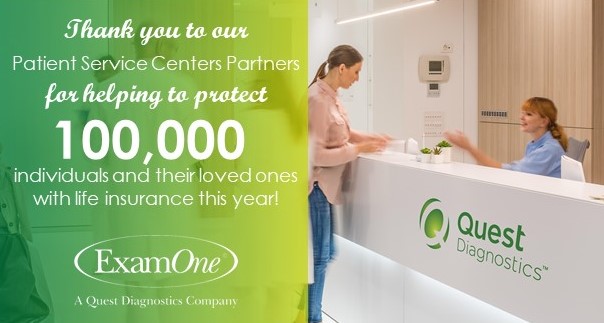 A big thank you to all of our customers, our PSC partners and frontline examiners who have helped us reach this landmark.
Committed to offering applicants choice, safety and convenience
In the fall of 2018, ExamOne launched our expanded exam center network by adding hundreds of Quest Diagnostics® Patient Service Centers (PSC) to our life insurance exam network. Throughout 2018 and into 2019, we grew the existing network to more than 2,300 exam center locations, creating more than 70,000 weekly appointment times. This video highlights the steps we have taken at our PSCs to enhance convenience and safety for those completing life insurance exams.
This expansion of locations and appointment times gives applicants options. Our online scheduling tool, ScheduleNow, allows agents and applicants to make appointments at an ExamOne office, PSC or with a mobile examiner. Selecting the ExamOne Office option allows the user to select an exam center location near the applicant's home or work address and choose an appointment time.
Applicant choice is also an important factor to consider when it comes to the location of the exam. Between January and October 2020 nearly 40,000 life insurance applicants completed ExamOne's applicant satisfaction survey after their exam at an ExamOne or Quest office. Of the respondents who completed the exam at an exam center, 42% said they chose the in-center location because it was the most convenient place for them and 18% said they chose the in-center location because they felt most comfortable at that location.
Learn more about how exam locations impact completion rates and turnaround time
Give your applicants the convenience of choice with ExamOne. Find exam center locations at ExamOne.com/Locations.