From empty grocery aisles to distilleries creating their own hand sanitizer, the COVID-19 pandemic has been a time of uncertainty, adaptability, and rapid change. Many industries experienced a sudden and significant increase or decrease in the demand for their services. As we approach the end of this unprecedented year, consumer demand for life insurance remains high.  
According to MIB Group, life insurance policies fell slightly in March and April year-over-year, but in May our industry saw a jump to 5.2% year-over-year. In July, the industry saw an astounding 14.1% increase YOY and another 9.1% increase in August. Individuals were applying for life insurance while insurers were looking for alternative ways to quickly obtain critical medical data needed to make an underwriting decision. Additionally, many applicants wanted to proceed with purchasing a policy, but some preferred a contactless interaction throughout the process. Those priorities led many insurers to LabPiQture™, our product providing historical clinical laboratory results*, as a real-time supplemental medical data source in their underwriting workflow.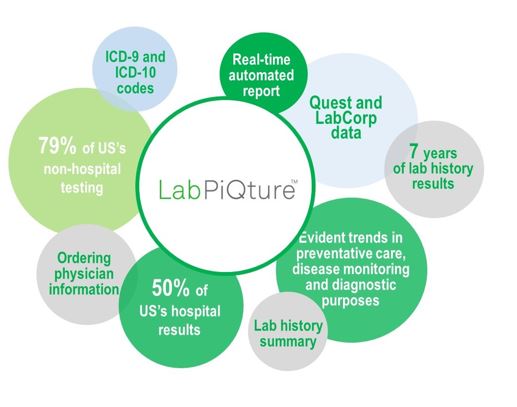 LabPiQture has become an integral part of many underwriting decisions. In addition to clinical laboratory results, detailed information such as diagnosis codes, LOINC codes and ordering physician information has proven valuable. Reinsurers have been actively engaged in studying subsets of deidentified LabPiQture data to evaluate the effectiveness of this unique information source.
Below is a list of the white papers Reinsurance companies recently completed on LabPiQture, as well as some of the key takeaways from each one. If you have any questions on incorporating LabPiQture into your process, please contact us.  
Gen Re
Focused on one-to-one substitution for insurance testing
Found insurance tests in 30% of applicants
Used GenRe manual to estimate mortality implications of insurance tests in LabPiQture
Mortality impact of 10% – very significant
Hannover Re
2023 hr | ReFlex Select for LabPiQture whitepaper
A detailed study that illustrates how hr | ReFlex Select rules for LabPiQture move sophisticated rules, robust data, and a single integration process from key differentiators in traditional numerical scoring to table stakes for the life insurance industry
Hit rates have increased to approximately 70% with an automated underwriting decision for the LabPiQture data on more than 85% of people with LabPiQture results per Hannover Re Underwriting Analytics
New features have been added including automated MIB coding, the inclusion of insurance panel testing, soon-to-be-released rules for laboratory tests done during pregnancy, and (ICD-10) diagnosis codes
Learn more about use cases and how this tool provides significant protective value
2020 Hannover Re whitepaper
Detailed summary of the content available through LabPiQture
Addresses value of non-insurance tests in qualitative terms
Discusses Potential Conditions model
RGA
In-depth protective value study
Focused on insurance tests and hemoglobin
Reviews correlation between insurance and clinical results
Provides a range of protective value estimates relative to insurance testing
High value is very defensible in ExamOne's analysis
Munich Re
Strong analysis of consistency between clinical and insurance laboratory results                     
The range of clinical tests available, such as Complete Blood Count panels that are typically not ordered as part of an insurance exam, may provide additional health insights
The most recent clinical test results are older than the corresponding insurance exam labs by a median difference of slightly under two years. Older issue ages have more recent clinical test results compared to younger ages for most insurance-relevant tests.
PSA: More than 50% of records for males over the age of 45 have at least one result
LabPiQture provides immense detail for past clinical laboratory test
From doctor specialties to diagnosis codes, LabPiQture can provide critical information to insurers. Life insurance policies can still be issued, while ensuring a business is accurately assessing risk.