The busy holidays may not seem like the most convenient time to apply for life insurance. However, the time spent with family and friends is a perfect reminder of the importance of protecting their futures with life insurance.
Here are three reasons the holiday season may be the perfect time for your prospective client to begin the life insurance application process.
They can get their life insurance exam while shopping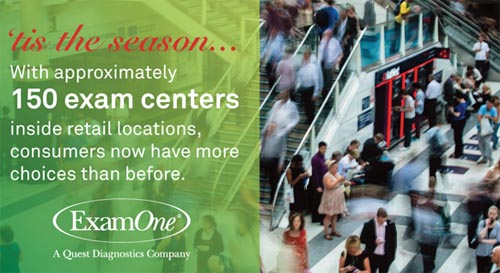 With approximately 150 exam centers inside Safeway and Walmart, consumers now have more choices than before and fewer reasons not to complete the life insurance application process while out and about this holiday season. Our recent expansion of locations and appointment times, in addition to online scheduling tools and less stringent fasting restrictions before exams, gives applicants more choices than ever before. You can find an exam center near you and your applicants by using our location finder at ExamOne.com/Locations.
They can develop a baseline for New Year's health resolutions
With the New Year right around the corner, it's a good time to discuss financial and "health" goals with your clients. When applying for life insurance, most policies provide applicants with laboratory results from their life insurance exam. This follow up health report is a tangible aspect of getting life insurance and provides your clients with invaluable information on current health status. It's a great foundation for those New Year's Resolutions.
Know how to shop for life insurance
Though it may not be found at the top of any holiday list, the gift of life insurance can be the most beneficial present a person can receive. Knowing the shopping habits of different consumer groups can help you tailor your services and messaging to their unique purchasing preferences.
Find out more about the shopping habits and preferences of different generations here. See a few highlights below.
Millennials: This group continues to self-educate and 54% are likely to ask social media connections for recommendations.
Generation X: Generation X is still placing other expenses over life insurance. 69% said cost of living expenses is the reason for not buying life insurance.3
Baby Boomers: Don't forget to build relationships with this group online, too. A study by Google shows that Boomers and seniors spend more time online than they do watching TV.
During the holiday season, continue to reach more people about the need for life insurance by sharing these reasons, or even your own real reasons. It's a gift everyone needs.