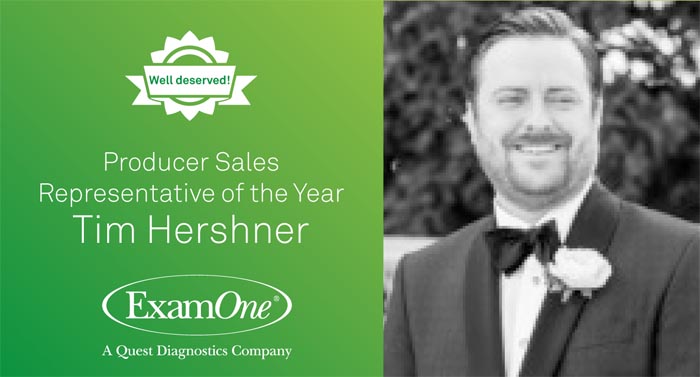 Since joining ExamOne in 2017, Tim Hershner has quickly made an impact with clients and was named the Producer Sales Representative of the Year in 2018. "I genuinely care about the customers we serve. Our lab results provide individuals who might not regularly see a physician with a free, in-depth view into their current health, while also helping them protect their loved ones with life insurance," said Tim.
Tim Hershner, Producer Sales Representative of the Year
What's a piece of advice or recommendation would you offer to other employees? I highly recommend sales professionals read The Challenger Sale and The Challenger Customer. I have leveraged the Challenger sales model since day one and haven't looked back.
Do you have a favorite quote or saying?
Ten things that require zero talent:
Being on time
Work ethic
Effort
Energy
Body language
Passion
Doing extra
Being prepared
Being coachable
Attitude
What do you like to do in your free time? I like to spend my free time with my wife, Jillian, our toy golden doodle, Junebug, and the rest of our family. I also enjoy tennis, golf, and spending time on the beach.
"Tim is professional and dedicated. He is always looking for new opportunities to grow our business and is truly passionate about the work that he does. His motivation to stay on top and care for our customers is helping him continue to be successful and an asset to our team."

–Ashley Humphrey, Sales Manager
Read more stories of success from our other award-winning team members who have been highlighted this year.