The new year is a time for goal setting, but it can also be a good time to reflect on the ways our employees make a difference in our communities – last year and in the future. In 2019, our employees supported local and national charities by participating in several awareness walks plus winter supply drives, back-to-school book collections, animal shelter fundraising, food drives, a holiday basket raffle and Salvation Army angel adoptions.
We are now pleased to kick off another year of giving by presenting $10,000 to the domestic abuse shelter, Rose Brooks Center. The Great Midwest Region of Quest, which includes the ExamOne Lenexa, KS laboratory, was the recipient of the Quest Diagnostics Quality Award and received funds to donate to a charity of choice. Rose Brooks is a Kansas City shelter that protects, supports and provides resources to hundreds of adults, children and their pets who need emergency shelter to escape life-threatening abuse. Quest and ExamOne plan to partner with Rose Brooks throughout the year with volunteer projects and continued assistance.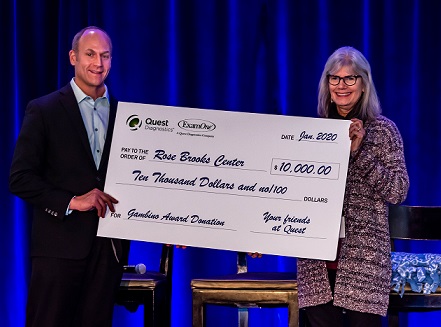 Jason Severtson, President of Quest Diagnostics Employer Solutions, recently presented a donation check to a representative from Rose Brooks during the Employer Solutions annual convention in Kansas City. Employees also made fleece blankets for guests of the shelter during a team- building activity.
"The Rose Brooks Center is a safe place for so many families. I've seen firsthand how the work there has put smiles on many faces and given people hope and respect, something they desperately need during tough times."

– LaCheak Fletcher, ExamOne Regional Account Manager, Rose Brooks volunteer
The charity efforts of Quest Diagnostics and ExamOne are organized and executed by an employee volunteer group called QuestCAN (Community Action Network). Their projects not only raise funds or collect supplies but also raise awareness for worthy causes. Three of the major recipients last year were:
Including our sponsorship of a popular large pink inflatable chair photo op, our employees raised more than $6,000 – making us one of the top fundraising teams in Kansas City.
Employees collected 7,636 pounds of food (44 barrels and 11 pallets) to support Harvesters' mission of feeding the hungry today and working to end hunger tomorrow.
During the holiday season, we raised almost $8,000while also raising awareness of the need to find a cure for America's #1 cause of disability.
Additional employee-chosen organizations the Kansas QuestCAN chapter supported in 2019:
"I am grateful to work for an organization that empowers all of us to make a difference – professionally and personally. From the work we do to help protect more families with life insurance to the generous efforts of helping fellow employees and contributing to our communities' charities – we are making a difference in people's lives."

– Joey Grant, Senior Vice President, ExamOne
It is always a goal of Quest and ExamOne to actively support charitable organizations in the communities where we live, work and serve. We look forward to helping even more charities in 2020.