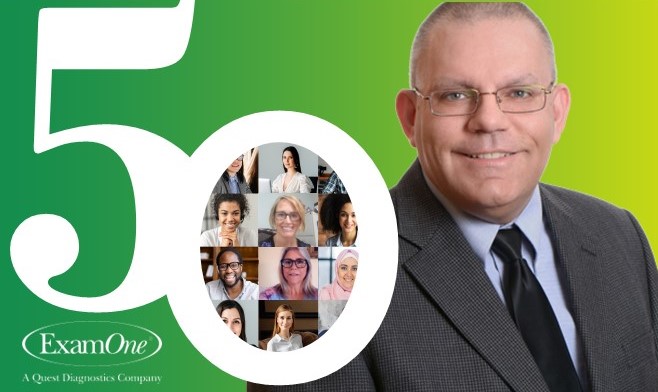 Our mobile examiners are the face of ExamOne, directly touching the lives of individuals every day. And ExamOne examiners are touching more lives than ever before.
The paramedical exam is an important component of applying for life insurance, but our national network of mobile phlebotomist also collect specimens and data at wellness events, support decentralized clinical trials and facilitate physician-ordered testing for patient who prefer to be conveniently and safely drawn at home.
As our examiners play an increasingly important role in empowering decisions with real-time health insights, we ask that you join us in acknowledging the importance of their work by celebrating Life Insurance Examiner Appreciation Week (last week of August) and Life Insurance Awareness Month in September. 
Convenience and choice are equally important for applicants when applying for life insurance and patients when scheduling labs. ExamOne's examiners meet these needs by not only offering home draws, but also appointments at one of our 110 ExamOne paramedical service centers or nearly 2,000 Quest Diagnostics® Patient Service Centers.
Examiner of the Year
As part of our celebration of Life Insurance Examiner Appreciation week, ExamOne is pleased to recognize Ken Hogue as our Examiner of the Year.Ken's commitment to excellence, using each exam and interaction with an applicant as an opportunity to learn and improve, exemplifies the pride and professionalism of our examiner network. 
Ken has been with ExamOne since 2008 and has become renowned across Pennsylvania for his expert clinical skills and his dedication to thorough service and compassionate care.
"His quality and professionalism are impeccable. When agents ask us to send our best, Ken is the first examiner that comes to mind. He has a kind heart and positive attitude," said Lynn Martinelli, Branch Manager of ExamOne's Pittsburgh office.
Requests for Ken are frequent, with many agents that want their applicants to be seen by him exclusively. Feedback from applicants consistently compliments his customer service.
Ken has more than 30 years of experience delivering patient-centric care, beginning as a volunteer emergency medical technician while he was in college. He enjoys interacting with people, and finds that a lot of apprehension people may have with blood draws and medical exams can be addressed by simply explaining the process and answering questions beforehand.
"Even when it is a short-term relationship with an applicant, letting them know that your competent and that you care about what you are doing – that goes a long way," Hogue said.
Ken has focused on not only advancing his own clinical skills through continuing education, but always also being willing to train other examiners in the field. 
"During a mobile exam, you're on your own, you have to be confident in your skills. You learn something from each collection, and I'm happy to be able to pass some of my knowledge on to my peers," Hogue said.  
Help us grow our team
To find out more about being an examiner, visit our career page and follow our examiner-specific Examiner LinkedIn page.