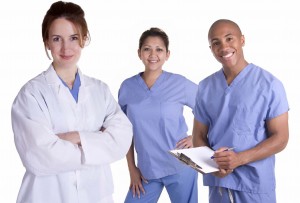 An important component of applying for life insurance is the paramedical exam required for many policies. ExamOne strives to make this step in the process of protecting one's family an easy, convenient and pleasant experience. Because of the vital role our examiners play in this journey, we seek team members who provide an excellent experience for applicants every day. Is that you?
"My own insurance agent highly suggested I look into doing work for ExamOne, saying, 'Those folks are really sharp and have their act together,'" said Tom Rush, who began working as an examiner with ExamOne in 2014. "I've never considered working for another exam company since, and I've never regretted it. I've always felt that I was respected by ExamOne, and I have nothing but respect for them. They've been a great partner for me, and I hope to work for them up until I'm 'too old.'"
Why join the ExamOne team?
ExamOne is a leader in the industry and the largest provider of risk assessment services in North America. We are proud to operate one of the largest, single-site laboratories in the country, which processes more than 15,000 specimens each day. Every insurance specimen collected by examiners and tested at our laboratory is helping a family become one step closer to being protected by life insurance. As part of Quest Diagnostics, you also join a company that is consistently ranked and recognized on prestigious lists such as Fortune 500, Forbes America's 100 Most Trustworthy Companies, Fortune World's Most Admired Companies, and Barron's 500.
In addition to joining a company with an industry-leading reputation, working as an ExamOne examiner offers you:
Professional development with access to exclusive training and certification opportunities
Flexible work schedules
A competitive benefits package that includes 401(k) participation
Career advancement opportunities within our company of more than 40,000 employees
Participation in national and local recognition opportunities
Building the right team
As an examiner, you may be the only ExamOne employee that applicants meet when you perform an exam at their home, place of work or at one of our paramedical service centers. You not only represent ExamOne, but also the insurance companies we service. This is why it is so important our team members provide excellent care and customer service to every applicant. We are committed to hiring the right people to fill this vital role: is that you?
Learn more about working with ExamOne on our LinkedIn page, or apply online.