Our mobile examiners directly touch the lives of individuals every day. Every exam conducted by an ExamOne examiner helps an individual either obtain life insurance, monitor their wellness, or help maintain their health. ExamOne helps bring the laboratory to millions of people every year through our dedicated examiners.
 "One exam can mean so much. From the peace of mind provided by life insurance to the potentially life-saving therapies advanced by a clinical trial – the work of our examiners and phlebotomists is so vital to so many. Every day, across the country, they rise up and provide a critical service with professionalism and expertise. ExamOne, our clients, and the people our examiners interact with on a daily basis greatly appreciate our powerful network of examiners."– Subu Ramachandran, ExamOne President
Join us in acknowledging the important work they do by celebrating Life Insurance Examiner Appreciation Week (the last week of August) and Life Insurance Awareness Month in September.
Examiner of the Year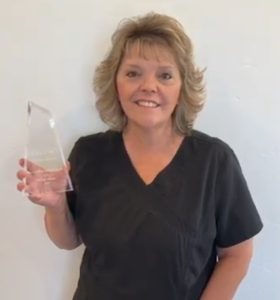 As part of our celebration of Life Insurance Examiner Appreciation Week, ExamOne is proud to recognize Tammy Adams as our 2023 Examiner of the Year.
"I would describe Tammy as the ideal examiner. She is always willing to help out in any way that she can and is patient and understanding in all circumstances. She always goes above and beyond to assist coworkers, applicants, patients, and agents. They are her number one priority. We are so beyond blessed to have her as a part of our ExamOne team." – Jennifer Bingham, ExamOne Branch Manager
Tammy lives in Genola, UT, and has been working in the insurance industry for over 30 years. Her positive personality and "always looking for the silver lining" attitude make Tammy an ideal examiner. Many of her clients consider her a friend once she has completed their appointment. When not working, Tammy fills her day with family, sewing, cooking, and crafts.
She shares some of her experience as an examiner and helping people, one exam at a time.
What's your favorite thing about being an examiner? No day is the same. But the best part is going into someone's home and providing a needed service in a friendly and professional manner. That is very satisfying. I love being able to turn a 'Grumpy Gus' into a friend during our short time together.
What has been a key to your success? I focus on the good. My advice to others is to be flexible, have a positive attitude, and know there is usually always a silver lining.
Do you have any special memories during your career?  I've worked with so many different people throughout my 30+ year career and ExamOne has been more of a family than any other company I have worked for. It feels like ExamOne always has my back and supports me.
Tammy is committed, caring, and an excellent example for our Examiner of the Year. Please join us in showing our appreciation for her and all of our 5,000 examiners during Life Insurance Examiner Appreciation Week.
Find out more about being an examiner
To find out more about being an examiner, visit our career page and follow our examiner-specific Examiner LinkedIn page.