Every day, our examiners demonstrate many of the behaviors that we value at ExamOne and Quest — Customer First, Care, Continuous Improvement, Collaboration, and Curiosity — our 5 Cs. Our clients and examiners share ways they are living those values.
Customer First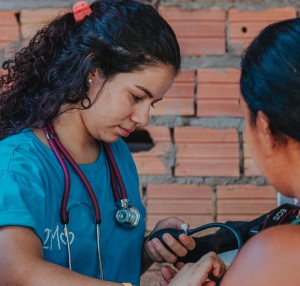 "The examiner who came to my home was incredibly professional and kind. She was very knowledgeable and made the process super-efficient. She is a great asset to your company." Thank you to Jennifer Todd in New Orleans.
"Thank you ExamOne for sending me an examiner to my home during the peak of the pandemic. They were the only person who had come into my home for 9 months. They helped me have the peace of mind of getting my life insurance policy approved." — Life insurance applicant
Care
"Donna Gibbons in Detroit started working with us in 2006. She is very compassionate about giving the best care possible and is very professional to every person she encounters. She is always upbeat and wu speak with her you can just tell she has a smile on her face." – Pat Pines, ExamOne office Branch Manager
"My examiner was Shawna and she was AMAZING! I was very nervous about this process, but she was so friendly and so professional that it really made me feel comfortable. This was by far the easiest and most painless experience." Way to go Shawna Twohig in Seattle, WA.
Continuous Improvement
"Sheri Delvo is a key player in our office's success! Completing thousands of life insurance exams in the rural areas of Washington to glaciers in Alaska with the highest quality. She also has the best paperwork quality score for the office. We are so lucky that she is so dedicated." — Bobbie Stack, ExamOne Branch Manager
Collaboration
"I really appreciate the support from fellow examiner Kira Hahn in Tucson, AZ. She allowed me to 'ride along' with her to train and observe her approach to the process. It was very beneficial to me."
"I would just like to shout out my health fair team! We work together like a well-oiled machine. Everyone appreciates each other, everyone shows up on time, and everyone works really hard. The customers love us — the team members are Rosanne Fazekas, Unnati Parikh, Sharon Harris, Alejandro Gonzalez, and Andrea Felder. We are a great team."
Curiosity
"I love being an examiner because I get to meet amazing people along the way. Also, the experience of being an examiner will help me in the future.  The more I learn the more it can help advance my career."
"Robert Frias in San Diego has stepped up to the plate so many times. He is the first one to get on the phone to help resolve any issues. Robert and the team in San Diego know how to ask the right questions to achieve the best results for everyone. Thank you for not giving up."
ExamOne, our clients, and the people our examiners interact with on a daily basis greatly appreciate our examiners for living these values every day. Thank you to these individuals who power our national network with care.