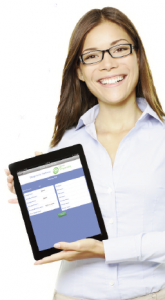 In a world where technology is ever changing, we must also adapt to and change our practices. We must find ways that allow us to be more efficient in our day-to-day operations.
Through Blueprint for Wellness, Quest Diagnostics, the world's leader in diagnostic testing, information and services, companies are offered a program that employees can access across the country. They provide biometric screenings and unique services to empower measurable health improvement, improved productivity and lower health care costs for employees.
Recently, Blueprint for Wellness launched a new iPad mobile application called Digital Data Capture. This application will improve the speed and efficiency of fingerstick screening events, the quality of clinical data captured from them, and results processing turnaround time.
Benefits of the new Digital Data Capture application include:
Greater Scheduling Flexibility: Service levels at fingerstick events are improved because less time is spent locating participation data during a screening encounter. Digital Data Capture eliminates the need to ship and locate paper requisitions for scheduled participants and enables participants to schedule their screening appointments right up to the night before their screening.
Enhanced Data Quality: All quality assurance (QA) requirements to release results will be confirmed before a single participant is screened, thus improving quality at a fingerstick event. By embedding QA into onsite event preparation, the risk of non-reportable results is also eliminated.
Significantly Improved Results Turnaround Times: With this new application, results can be processed in as little as one day – a process that historically has required up to seven business days to complete.
The launch of this new mobile application is an exciting time for Blueprint for Wellness. Adapting to the digital world will allow for a better process and better experience for your employees.