At ExamOne and Quest we believe in giving back and encouraging our employees to "pay it forward." Last year we gave $4.3 million to charities, $76.6 million in-kind gifts and more than 28,000 of our employees volunteered. ‪
This holiday season we are hosting our annual food drive for Harvesters Community Food Network, collecting toys for The U.S. Marine Corps Toys for Tots and adopting angels from The Salvation Army Angel Tree. In addition, we are proud to partner with the American Red Cross Holiday Mail for Heroes program. Our employees across the country are filling out holiday cards for members of the military and veterans. We hope to send holiday cheer to the brave men and women who help defend our freedom.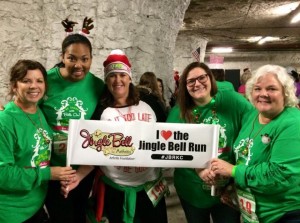 We've also participated in walks this year raising money for different organizations. Last weekend our employees showed support for the Kansas City Arthritis Foundation as a presenting sponsor for the Jingle Bell Run/Walk. The Kansas City walk is one of the top 10 events for the Arthritis Foundation in the country raising more than $140,000 to benefit arthritis research. With our sponsorship and fundraising, our walk team raised more than $15,000. In October we also participated in the American Cancer Society's Making Strides Against Breast Cancer walk.
"I'm proud of our employees' commitment to giving back. During this time of  year we have many reasons to be thankful and I encourage everyone to spread this gratitude throughout our company and our communities now and throughout the whole year," said ExamOne President Troy Hartman.