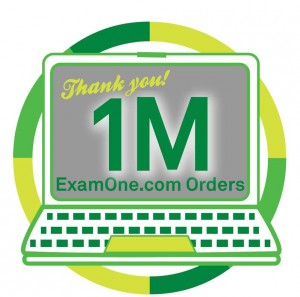 This month we celebrate an exciting milestone: our 1-millionth online order at the ExamOne.com portal. This impressive number is a testament to the success of the tool we introduced to the industry in 2014. A big thank you to all of our customers and users who helped us reach this landmark.
Pete Warchola, Product Manager for the application, stated "We are committed to providing an optimal applicant experience. Not only are we celebrating our 1-millionth order on ExamOne.com, but more importantly, we're celebrating the fact that our tool is a resource that simplifies the life insurance process, making it easier for families to protect their loved ones."
Mukesh Chaudhary, Software Development Manager, thanked the IT support staff for all their efforts. "User experience is so important, that's why we have invested in a tool that enables users to increase their productivity. This milestone celebrates the development of a modern application that positions ExamOne for future growth. We wanted users to stay better informed on their cases. ExamOne.com functions as an applicant-centric application that provides a consolidated view of all orders for an applicant."
Examone.com gives users a single, easy-to-use and consistent interface across all lines of services, to include paramedical examinations, laboratory testing, data services, APSs, and our electronic data collection services. The site's functionality has evolved since it was first introduced and is continually evaluated to benefit the end users. Today, we have over 10,000 people using the application and see the benefits of a streamlined workflow. Again, thank you to everyone who has helped us achieve this milestone. If you aren't familiar with how online ordering can help you work more efficiently, see below:
ExamOne.com feature & benefits
Stay better informed on your cases—detailed case information provides you with further insight.
Mobile status- The ExamOne.com app is the quick and easy way to stay connected to all of your cases from anywhere.
Reduce no shows and reschedules—Schedule Now enhancements increase availability and reduce tardiness.
Underwriting life of a case- When ExamOne is the service provider, all services ordered are visible on the case.
Loyalty Points: With our loyalty program, for each completed paramedical exam ordered online, you will earn one point towards receiving free insurance leads. Once you reach 20 points, you can redeem them for 5 free leads.