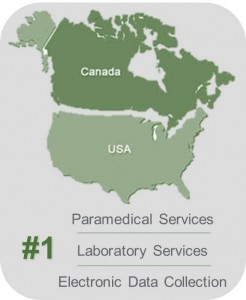 ExamOne has been the life insurance industry's laboratory for more than 40 years. Although based in the United States, ExamOne is proud of our extensive, yet still growing, Canadian presence.
In order to fulfill our commitment to the industry, we provide our international market with comprehensive testing and unmatched customer service. Our dedicated staff ensures fast turnaround times, accurate test results and regulatory compliance. Additionally, multilingual applicant materials are available at ExamOne.ca/Applicants to help educate applicants of all backgrounds about the paramedical examination process.
"Not only is ExamOne a leading laboratory for the life insurance industry, but we also provide education to agents," said Raj Nimkar, Director, Client Solutions and Sales Support. "In addition to continuing education presentations, we provide opportunities for agents to learn more about the exam and laboratory testing process one-on-one with our representatives."
ExamOne is also committed to helping our clients spread the word about the importance of life insurance in the Canadian markets. The Canadian Life and Health Insurance Association found life insurance protects 22 million Canadians, leaving 20 percent of the population without coverage. However, according to LIMRA, 75 percent of Canadians say they would have difficulty with living expenses if the primary wage earner were to die. By committing to spread the word, we can help more families protect the ones they love.
"By helping each person understand the value of life insurance, we're helping more and more families be protected from life's uncertainties," said Paul Walker, Director, Sales and Operations, Canada and International Business. "We're committed to creating a positive experience for clients and their applicants to get more families covered."
Stay connected with ExamOne in Canada by opting in to receive email updates and following our LinkedIn page.