ExamOne Supports Life Insurance Awareness Month in September
ExamOne, a leader of laboratory testing, underwriting and paramedical services to the life insurance industry, is supporting Life Insurance Awareness Month, organized by the Life and Health Insurance Foundation for Education (LIFE). During the month of September, the LIFE Foundation is highlighting the need for financial security among America's households and the role of life insurance in meeting this need.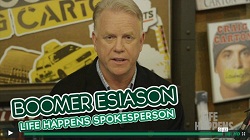 This year, the LIFE Foundation is bringing back NFL MVP, Boomer Esiason. As a young child, Boomer experienced the hardship of losing his mother without any life insurance, leaving his father to care for his family alone.
"ExamOne has been supportive of Life Insurance Awareness and we have been dedicating more and more resources to support our clients in this regard," said ExamOne President, Troy Hartman. "We have helped the life insurance industry make great strides in efficiency and improving the experience of their applicants when they are getting insurance. Life insurance is too often an overlooked element in financial security for consumers and people need to be reminded of its value; so, we are happy to be joining about 100 of our partners to help in this initiative."
ExamOne has made a commitment to help the 95 million Americans without life insurance protect their families. We are answering this challenge by providing clients with innovative tools and a more simplified process – resulting in a more satisfied applicant. We have a dedicated applicant website that offers tips and a video on how applicants can prepare for their paramedical examination, answers frequently asked questions and provides instructions on how they can obtain results online of laboratory testing performed on them through its product, Inside Look*™. Additionally, our extensive network of mobile and in-center paramedical options, allows applicants more choices for exam scheduling and completion.
There is a section on ExamOne's website (ExamOne.com/life) dedicated to Life Insurance Awareness Month that links with the LIFE Foundation site.
LIFE is a nonprofit organization dedicated to helping consumers make smart insurance decisions to safeguard their families' financial futures.