This June, ExamOne is committed to raising awareness about men's health. Many serious health conditions can be prevented or detected early with regular checkups.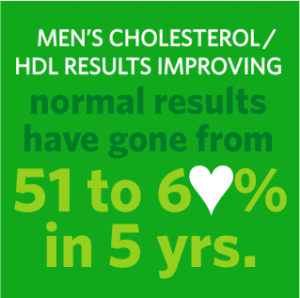 Below are some of the regular screenings recommended for men1:
High blood cholesterol – Regular testing is recommended for men over 35. High blood cholesterol increases chances for heart disease, stroke and poor circulation.
Blood pressure – A blood pressure checkup every two years can reduce the risk of strokes, heart attacks, kidney and eye problems and heart failure.
Colon cancer – Beginning at age 50, men should be tested regularly for colorectal cancer, and the frequency of testing depends on the type of screen conducted. If there is family history of colorectal cancer, testing may need to begin before age 50.
Diabetes – Men with a blood pressure higher than 135/80 should talk with their doctor about a diabetes screening.
According to the Centers for Disease Control and Prevention, women are 100 percent more likely than men to seek preventive healthcare. Regular screenings can help catch these serious diseases early when they are easier to treat.
One metric used to evaluate an applicant's risk of heart disease is the cholesterol/HDL ratio. With the increased focus on personal health and advancement of medical technology and pharmaceuticals (statins2), we have seen the cholesterol/HDL ratio improve significantly over the years. In 2009, 51 percent of our tested male insurance population had normal cholesterol/HDL ratios. Over the past five years, that rate has increased to 60 percent.
Quest Diagnostics offers an easy-to-use test to screen for colorectal cancer, known as InSure® ONE™. This in-home, water-based test kit makes it easy for individuals to complete the screening. InSure FIT is proven to detect stages I-III of colorectal cancers and requires no food or medicinal restrictions and no fecal handling. Learn more about the InSure ONE test.
Show your support for men's health by wearing blue this month, and get more information about prevention from MensHealthMonth.org.
---
1Men: Stay Healthy at Any Age: 2014 Update. March 2014. Agency for Healthcare Research and Quality, Rockville, MD. http://www.ahrq.gov/patients-consumers/patient-involvement/healthy-men/healthy-men.html
2Statins are drugs that can lower cholesterol. They work by blocking a substance the body needs to make cholesterol. Statins may also help the body reabsorb cholesterol that has built up in plaques on artery walls, preventing further blockage in blood vessels and related heart attacks.