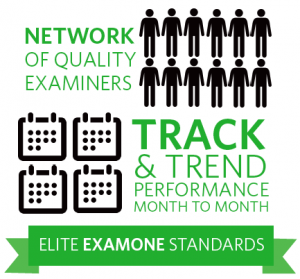 Good examiners gather good data. Underwriters are able to make confident decisions when they trust the data integrity.
Examiner IQ
Our Examiner IQ program identifies problematic examiners by assessing physical measurement authenticity and specimen quality along eight benchmarks. With the implementation of Examiner IQ in 2014, we've seen a 10% increase in physical measurement and specimen quality.
Examiner Scorecard
ExamOne's examiner scorecard is used to track and trend each individual examiner's performance from month to month. We evaluate accuracy and Examiner IQ data. Examiners are rated in three tiers based on their performance accuracy:
Tier 1 Accuracy – considered excellent
Tier 2 Accuracy – starts conversations toward improvement
Tier 3 Accuracy – results in retraining or termination
Questions about quality? Email our Quality Department.
Read more about our commitment to quality: Committed to Quality Series.