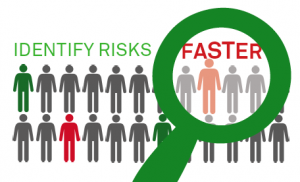 Today's fast-paced society demands faster decisions on everything we do. So how do you make quick, efficient underwriting decisions while ensuring that they are based on the most accurate and reliable information?
We have a new tool that accomplishes both. Here are three ways Risk Identifier™ can help you identify your riskiest applicants sooner, freeing you up to focus on your most valuable cases:
Provides a real-time applicant-level score. You can immediately and easily uncover basic mortality risk based on trusted health data.
Gives you access to multiple data products and information traditionally available in a medical file. Now you can collect all the data from various sources needed with one request and on one report.
Identifies red flags earlier, triaging with historical health data alerts you to vital health risks much earlier in the underwriting process. This data gives you the insights to decide if any additional health results or laboratory testing is necessary.
How does Risk Identifier accomplish these time-saving steps?  
Risk Identifier is the only tool in the industry that can draw upon years of historical experience with fully-underwritten applications, using QuestCheck®*, our clinical laboratory history product, and ScriptCheck®*, our prescription history tool.  The real-time, health-driven scoring model helps you save time while still maintaining the utmost confidence in your decisions and next steps.
Want to find out more about how Risk Identifier can help you work more efficiently? Contact your local Strategic Account Representative. For more information visit ExamOne.com/risk-identifier.
---
*ExamOne requires prior written consent from insurance applicants, which appears in the HIPAA compliant authorization that is part of the insurance application. The authorization must be signed and dated prior to accessing the information. Both QuestCheck and ScriptCheck are FCRA compliant.