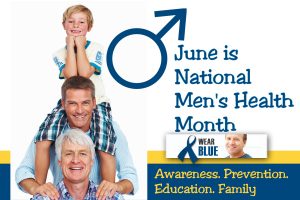 This June, we're committed to raising awareness about men's health. Insurers have a unique opportunity to support applicant health because of the health discovery process during a life insurance application. Prevalence of chronic diseases, like heart disease and diabetes, continues to grow in the United States. In 2015, 191 million Americans had at least one chronic disease, and 75 million had two or more. It is expected there will be more than 83 million Americans with three or more chronic diseases by 20301.
According to the Centers for Disease Control and Prevention (CDC), heart disease is the leading cause of death for men in the United States. Key risk factors for heart disease include high blood pressure, high LDL cholesterol and smoking, of which 49% of Americans have at least one of these contributing factors2. However, according to the American Heart Association, half of men who die suddenly of coronary heart disease have no previous symptoms3.
Did You Know: Chronic disease is on the rise, in 2015191 million Americans had at least one chronic disease, and 75 million had two or more.
Incorporating a health exam into the life insurance application process helps insurers identify unknown or undiagnosed conditions in applicants. Oftentimes, applicants are unaware they are at risk of a serious disease and, as a result, do not disclose that on the medical history portion of the application. In a recent study conducted by ExamOne, it was found that non-disclosure of heart disease was nearly 94% in male applicants. This high nondisclosure rate may be a result of an intentionally undisclosed medical history, but it is more likely from undiagnosed disease risk of heart failure and left ventricular heart function. This would only be found by laboratory testing or more costly cardiac testing. Download the full study on applicant non-disclosure.
Additionally, insurers can support applicant health awareness by offering laboratory results to the applicant as part of the application process, such as ExamOne's Inside Look® online laboratory results. Laboratory results can identify risk factors applicants may not be aware they have and encourage them to have a valuable conversation with their physician about ways to manage or improve their risk.
Show your support for men's health by wearing blue this month, and by empowering applicants to take control of their own health with actionable insights obtained through a health exam.
Learn more about Men's Health Month at MensHealthMonth.org.
---
National Factsheet on the Impact of Chronic Disease in the United States. http://www.fightchronicdisease.org. http://www.fightchronicdisease.org/latest-news/new-national-data-shows-projected-total-cost-chronic-disease-2016-2030-america-42. Accessed May 22, 2017.
CDC. Million Hearts™: strategies to reduce the prevalence of leading cardiovascular disease risk factors. United States, 2011. MMWR 2011;60(36):1248–51.
Roger VL, Go AS, Lloyd-Jones DM, Benjamin EJ, Berry JD, Borden WB, et al. Heart disease and stroke statistics—2012 update: a report from the American Heart Association. Circulation. 2012;125(1):e2–220.