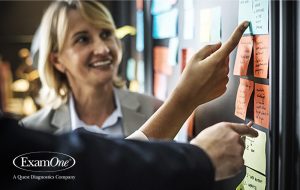 Implementing a pilot program can be an effective tool for measuring the impact of a new product or workflow. Over the years, we've helped dozens of insurers pilot new tests and tools. We have found the most successful studies have 3 things in common: a specific goal, sufficient data and a measurable outcome.
Setting up the pilot
First, define a clear and specific goal and what is it you hope to learn from this pilot. For instance, you might want to find a way to reduce the costs associated with treadmill and routine EKGs. One way you may test this is to perform routine NT-proPNB screening on applicants ages 60 and older. Another scenario may be during the health history interview. By working to develop a well-crafted tele-app interview with appropriate drill-down questions, coupled with routine ScriptCheck reports, insurers may be able to successfully replace a large percentage of EKGs, or reduce the number of Attending Physician Statements (APS) ordered.

Next, make a comprehensive list of all inormation you wish to capture during the study and where this data will be recorded. The more data you collect, the more measurable your results will be. A list of recommended data points is listed below:

Policy number
Plan of insurance (term vs. perm)
Gender
Face amount
Tobacco use status
The basis for ordering the requirement (age/amount or "for cause")
Final underwriting decision without the requirement
Final underwriting with the requirement
Cost of the underwriting requirement which includes the actual cost of the requirement, as well as incidental costs, such as underwriting review.

Finally, analyze the results. During this stage, it's important to determine if the underwriting requirement being studied merely confirms information available from other sources, or provides independent protective value above and beyond what was already known.
Using data to customize your workflow
Every company and pilot is unique. What works for one company may not work for another. Once you have your data, the analysis will reveal trends to help you identify what should be implemented to best support your company goals.
If you would like assistance in implementing a pilot, one of our professional services analysts can work with you to understand your goal(s) and set up a pilot that will help you achieve them.