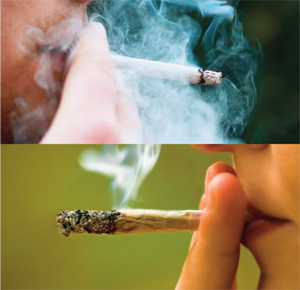 Smoking raises red flags for insurers across the board – applicants are usually rated if they produce a positive cotinine test. Further, tobacco use can lead to the potential onset of additional health risks, such as cancer, heart disease, stroke, diabetes and/or lung diseases. Aside from these health concerns, studies show a correlation of tobacco use and marijuana use. Statistics also reveal an increased risk of positivity for other drugs of abuse.
The likelihood of a tobacco user testing positive for marijuana
Our data scientist, Brian Lanzrath, extracted a sample of ExamOne applicant data to identify what, if any, correlation exists between the use of tobacco and marijuana. From 2017-2018, nearly 6.6% of ExamOne life insurance applicants tested positive for cotinine. You can see the states with the highest cotinine positivity rates on this map with Ohio, Kentucky, Indiana, Arkansas and Mississippi being among the five highest. Within each of those states, the positivity of those who tested positive for both THC and cotinine is as follows:

Overall, tobacco users are nearly 5 times as likely to test positive for THC as non-tobacco users.
Study finds tobacco users 25x more likely to test positive for PCP
Brian also discovered tobacco users were 5x more likely than non-tobacco users to test positive for methadone, PCP and cocaine. Further, marijuana users were nearly 25x more likely than non-marijuana users to test positive for PCP. They were also 15x more likely to test positive for cocaine and 10x more likely to test positive for methamphetamines. As the opioid epidemic continues to spread, it's important for insurers to be diligent in their testing requirements. Laboratory expert, Betsy Sears, says as a result of the compelling data, there is a growing interest among carriers in using cotinine as a reflex for drug/expanded opioid screens.
Underwriting with precision
It's important to understand that a positive cotinine test could mean more for insurers. Not only could it mean the applicant is at high risk for multiple health conditions, there is an increased risk the applicant could be misusing other substances that increase mortality. Navigate through the smoke by ensuring you are receiving a complete profile of your applicants.
To review your parameters, discuss reflex testing or to complete an analysis on your applicants, please contact us.