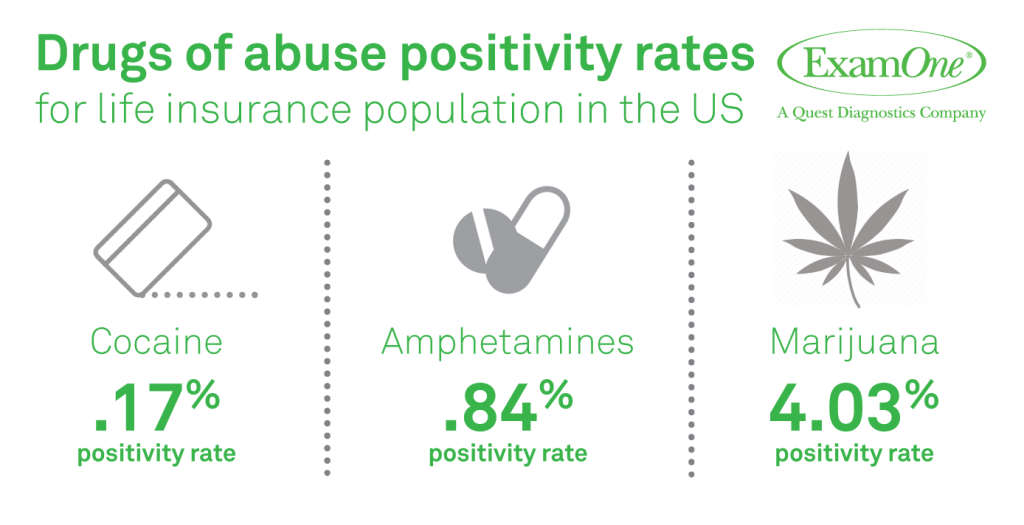 Workforce drug testing positivity climbed to its highest rate since 2004, according to the latest report of the Quest Diagnostics Drug Testing Index™ (DTI) released this spring. According to the report, 2018 positivity rates in the combined U.S. workforce increased to 4.4% in urine tests, an increase of nearly 5%. Overall positivity is now 25% higher than the 30-year low of 3.5% recorded between 2010-2012. As workforce positivity rates continue to rise, are the same trends reflected in life insurance drug use positivity rates?
Marijuana dominates in the general U.S. workforce and life insurance drugs of abuse positivity rates
The DTI reports that marijuana continues to top the list of most commonly detected illicit substances among American workers. As marijuana is legalized in more states, positivity rates are rising for life insurance applicants, as well. Marijuana positivity for the general U.S. workforce was 2.8%, and even higher in the life insurance population, with a 4.03% positivity rate.
Marijuana in the insurance population remains near its all-time high in 2017.
ExamOne's data analytics experts also recently published other emerging insights on the magnitude of marijuana risk from a life insurance underwriting perspective. The ExamOne study revealed higher mortality risk among male marijuana users.
Misuse of other drugs impacts both employers and insurance companies
For other drugs of abuse, insurance positivity rates do not differ substantially from those seen in workforce testing. Cocaine, which had a 0.28% positivity rate in urine testing among the general U.S. workforce tested by Quest in 2018, had a 0.17% positivity rate within the life insurance population. Furthermore, amphetamines, which had a 1.2% positivity rate in the same workforce category showed a comparable 0.84% positivity rate in the life insurance subset.
Drug use affects people of all walks of life, including those who work, who have families and who apply for life insurance. Misuse of drugs and addiction can cause workplace accidents and, according to a 2018 article in the Journal of the American Medical Association, among individuals 20-55 years of age "substance abuse, suicides, and diabetes drove a rise in premature deaths in nearly half of the U.S."
Impact of these losses is shared by employers, insurance companies, and especially families.
See where the highest overall workplace drug positivities are located on this interactive map. And to learn more about adding a drug panel to your life insurance laboratory requirements, please contact your Strategic Account Executive or email: DgxLenExamOneMarketing@QuestDiagnostics.com.