The past 12 years have been very difficult on American households. Low savings rates, weak investment returns, a housing crash in many markets and high unemployment have left many households in dire financial condition. This can disrupt retirement plans, funding for a child's education, and other goals for a brighter future. A death or disability to a breadwinner in a household shreds whatever financial stability that was once provided.
With this as a backdrop, it is alarming to see that 30 percent of American households do not have life insurance coverage that can cushion the financial blow of premature death.[i] Even the most vigilant savers compound a personal tragedy with a financial catastrophe when there is no insurance.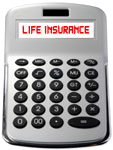 ExamOne is participating in Life Insurance Awareness Month in September, a consumer-focused education program that was developed by the LIFE Foundation. We are encouraging people to speak with a financial adviser or an insurance representative to examine their financial needs and how insurance fits into that program. This calculator from LIFE Happens can help an individual calculate the right amount of coverage for them and their loved ones.
The Association of Insurance Commissioners published a buyer's guide that explains the different considerations about buying a life insurance policy. The most significant difference is term insurance, which lasts for only a set period and does not build cash value, and whole life, which is more expensive but builds cash value over time.
There are certain circumstances where one form of insurance is more appropriate than the other and those circumstances are best discussed with a professional. Since insurance is a contract with a defined benefit, it has financial guarantees that many investments cannot make.
The importance of this cannot be understated in this investment climate. Poor returns have characterized much of the decade. Bank accounts are yielding about one percent. The stock and commodities markets have been erratic and their volatility poses risks. A housing bubble has decimated home equity, leaving 11.1 million or 22.8 percent of homes where the mortgages are higher than the property's value at the end of 2011, according to CoreLogic.
The need for financial security has never been greater with the weak job market and uncertain economy. Life insurance is an important foundation for households. It's been said that life insurance is purchased for the living and it helps loved ones carry on much easier under the worst circumstances.
_________________________
i"Ownership of Individual Life Insurance Falls to 50-Year Low, LIMRA Reports," press release issued August 30, 2010. http://www.limra.com/newscenter/newsarchive/archivedetails.aspx?prid=145