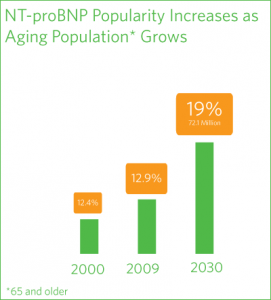 In a country where the older population (persons 65 years or older) is growing, we are seeing an increased number of cases of cardiac stress and various heart diseases. The Administration of Aging (AOA) has released data stating the elderly in the U.S. numbered 39.6 million in 2009. They represented 12.9% of the U.S. population, about one in every eight Americans.  It is projected that by 2030, there will be about 72.1 million older persons, more than twice their number in 2000.
Knowing the older population will continue to grow, wouldn't it be nice if we had a way to monitor heart stress and other conditions? What if we had a test that could tell us if our heart was under stress that was applicant friendly, easy to perform, easy to interpret and low cost. What if this test had a 98% negative predictive value? In other words, when the test comes back negative you can be essentially assured the applicant had no left ventricular dysfunction at the time of testing.  In addition, what if this test was predictive of future heart disease and mortality?  We have such a test today, called NT-proBNP (N-terminal Pro B-type Naturetic Peptide). It is a chemical released into the blood in increased amounts when the heart muscle is stressed.  Conditions such as heart failure, left ventricular dysfunction, and coronary artery disease cause elevations of NT-proBNP in the heart.
There have been numerous studies in medical literature (1,2) that have found NT-proBNP to be a robust predictive indicator of overall mortality in patients with stable coronary disease or in the general older population (50 – 89 years old). Many of these studies have revealed increased elevations of NT-proBNP indicating myocardial stress in asymptomatic or even undiagnosed individuals.  Quest Diagnostics Berkeley Heart Laboratory in California, who develops new and innovative tests in the Cardiovascular disease area, has found NT-proBNP to be one of the leading biomarkers in Cardiology.
NT-proBNP continues to be a valuable biomarker in the general population as well as a screening tool for life insurance risk assessment in the older age applicants.
For current screening and reflex recommendations, download our NT-proBNP test reference sheet.
If you wish to have a parameter review or to discuss NT-proBNP reflex testing further, please contact Betsy Sears, Executive Vice-President, Sales Support and Client Relation, at Betsy.R.Sears@Examone.com.
(1)   deFilippi. Journal of the American College of Cardiology 55 (2010):441
(2)  Marz et al. Clin. Chem. (2007) 53: 1075