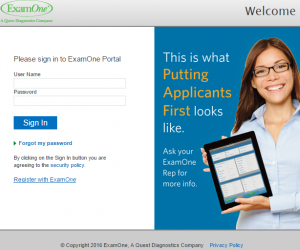 Our online ordering system is designed to simplify the ordering process, improve efficiency for your office and personalize the site for your needs. This tool was designed to help you manage your cases easier, save you time throughout your day and speed up the time it takes to order requirements.
Below are some of our most frequently asked questions in regards to managing your ExamOne.com account. You can also download the full document here.
I am an agent and would like access to the ExamOne portal. How would I register an account?
Go to https://Portal.ExamOne.com and click on the blue link "Register with ExamOne." From there select "I am an agent" and follow the steps to create the account. Once the account is created, you will receive an email from PortalNotification@ExamOne.com requiring you to set up a password and register the account.
What if I work for an agency?
Work with your agency manager, who may add you as a team member for the agency.
I am receiving the message "This user already exists" when trying to create an account.
The email address or mobile number that you are trying to use is currently in use on another profile. Please reach out to your local ExamOne office and ask for an ExamOne sales representative for assistance.
I have just successfully registered with ExamOne.com and have logged into my dashboard. Where do I go from here?
If you need assistance on how to navigate our ordering platform, place orders, search cases, etc., reach out to your local ExamOne sales representative for assistance.
If you have further questions, please reach out to your local ExamOne Sales Representative.