As we wrap up Hepatitis Awareness Month, we sat down with our laboratory expert, Betsy Sears, to ask her some questions regarding hepatitis C (Hep C).  Hep C affects millions of people who may not even know they are living with it. The Centers for Disease and Prevention Control (CDC) estimates that up to 75% of those infected are unaware.  Knowing one's status can help them make important decisions about their health.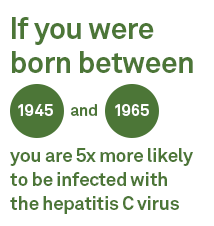 Who is most at risk for Hep C?
Those most at risk are baby boomers (born between 1945 and 1965). In fact, they are five times more likely to have Hep C than anyone else.
I have several applicants who are baby boomers. Is there a way for them to know if they are at risk for Hep C?
Yes. Quest Diagnostics offers a short quiz to help individuals identify their risk of Hep C. Upon completion, they can request their quiz results be emailed to them, and can even print them to share with their personal physician to discuss next steps.
Can a blood test detect an applicant who has Hep C?
Yes, a simple blood draw can provide much information.  Our laboratory tests for the antibody of this viral liver disease. Presence of the antibody indicates the presence of either a current or past infection. Including an HCV screen on your laboratory panel for applicants born between 1945 and 1965 can help identify those with increased risk or infection.
What effect does Hep C have on the insurance population?
Multiple ExamOne studies over the last 16 years have shown that over 44% of life insurance applicants with a positive Hep C test have normal liver function tests.  Historically, elevated AST, ALT and GGT have been the markers utilized to reflex HCV testing. Our data continues to show that HCV positives will be missed by the conventional reflex rules, so we are recommending more widespread screening. Overall, there is a 1.2% positive rate among US life insurance applicants, with the greatest concentration of positives in the 50-70 age group.
Is there treatment for this disease?
Yes. In 2015, there were 48,000 prescriptions for Harvoni, a cure for Hep C, filled monthly. This prescription medication (introduced in 2014) proves how the treatment for Hep C has been revolutionized. Historically, an individual had to take multiple pills per day in conjunction with a single shot per week. Now, they take a single pill once a day.
Recently, the CDC released a new study showing that Hep C has nearly tripled in the US in the past five years. It is also the top killer among infectious diseases in the nation, taking nearly 20,000 lives in 2015. As we continue to see the number of Hep C cases increase, it's even more vital to know the status of your life insurance applicants. With Hep C being so prevalent in baby boomers, and the CDC's report stating that infections are increasing rapidly among young people because of the rise of opioid misuse, it's important to consider screening with HCV for all ages.
For more questions on incorporating HCV into your insurance testing panel, please email Betsy Sears at Betsy.R.Sears@ExamOne.com.
---
Meet our expert
Betsy Sears
Executive Vice President, Laboratory and Strategy 
Betsy has 30 years of experience in the insurance laboratory environment. She works closely with ExamOne's laboratory operations, research and development, and medical and sales staff on client end-to-end strategic solutions, and supports insurance customers through a variety of presentations on laboratory, medical and risk assessment topics.
Prior to joining ExamOne, Betsy served as vice president and laboratory director of Osborn Laboratories for 14 years. She also has over 11 years of experience in clinical and hospital laboratory settings in New York City and Chicago, specializing in microbiology.
Betsy earned a bachelor's degree in medical technology from the University of Missouri – Kansas City and a master's degree in business management from Baker University.