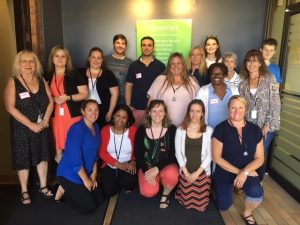 This week our Canadian teams in Ontario celebrated coming together to form a new Head Office, located in Pickering. An open house celebration was hosted at the new location for all employees. Senior Director Canadian Operations Len Butticci welcomed everyone to the new Head Office. He took time to recognize and appreciate our committed employees."Thank you for your dedication to our clients, our industry, and for the tremendous work you do to help continue our growth in Canada," he said.
The new Head Office team and all of our employees across Canada are committed to providing life insurers an extensive range of innovative services and dedicated to ensuring applicants have a positive experience.
"Serving our clients' needs and helping them protect more families with life insurance is a common goal all of our dedicated employees work very hard towards." said Dorothy Fitzgerald, HR Manager
Following the 2017 acquisition of Watermark Insurance Services Inc. and BW Underwriting Services Inc., this new office unites more than 60 Canadian team members.
For a complete listing of all our locations in Canada, please visit examone.ca/locations/.
See more photos of open house on Facebook.