We always celebrate our employee award winners internally every year, but we also feel it's important to give our clients and consumers an opportunity to get to know some of these exceptional employees too. Meet some of the dedicated ExamOne operations and sales staff who were our top performers in 2019.
Regional Account Manager of Year: Rebecca Shady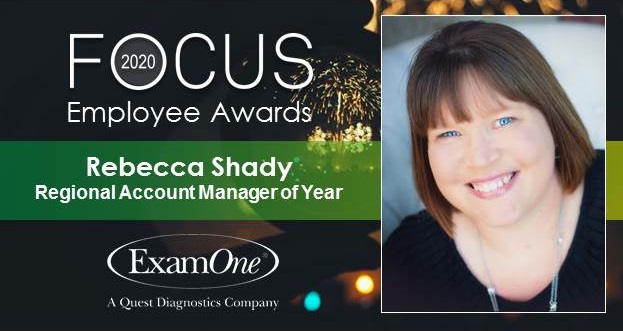 Our Account Management team interacts with multiple parties internally and externally. They help find solutions by working with clients, life insurance applicants, and many company departments. After 8 years with ExamOne, Rebecca Shady has been recognized as one of the best at navigating these relationships as the Regional Account Manager of the Year for 2019.
What is the most rewarding part of your job? I love that I play a part in protecting families in their time of need.
What's a tip that has helped you serve our customers better? I always put myself in the shoes of the applicant or client. Everyone is busy, so I like to work with all the different teams to accommodate requests to best enhance everyone's experiences. I will often pick up the phone and call the applicant to discuss their experience or to assist with the process.
"I have complete confidence in Rebecca and her abilities. She is the perfect example of excellence in customer service." – ExamOne client
Do you have a favorite quote? "Three things in human life are important, the first is to be kind; the second is to be kind, and the third is to be kind." Henry James
Rebecca plays an important role in ensuring superior customer service experiences to all the groups she works with. When she is isn't tracking down answers at work she likes to attend dirt track races and concerts with family and friends.
---
ExamOne Regional Sales Manager of the Year: Julie Lewis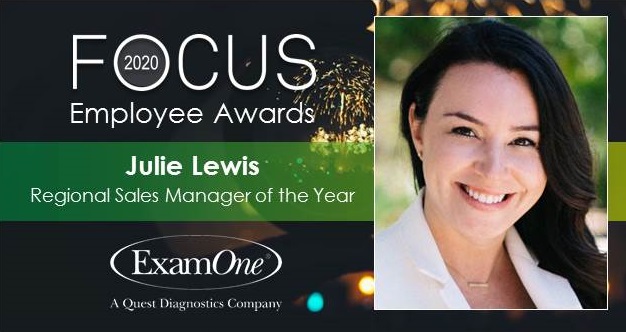 ExamOne is committed to developing our people. The recipient of the Regional Sales Manager of the Year is a great example of a successful career progression from starting as a sales representative in the field to now leading that same group. Before her newest role as Vice President of Producer Sales, Julie (Lewis) Kastler not only grew professionally herself during her 14 years with ExamOne but mentored many others along the way.
What is the most rewarding part of your job or what do you love most about it? The most rewarding part of my job is watching a sales representative prosper in their sales career. Nothing makes me happier than supporting an employee in their professional growth and watching them succeed. Over the years, I've been honored to work alongside reps as they transition into different roles throughout the company. The most gratifying part of my role is helping them develop skills, build confidence and help them maximize their potential.
What's one unique strategy that helped you win business or serve our customers? I always make the focus about the customer. I strive to build a dynamic relationship by learning both their personal and professional goals. We talk about family vacations, their favorite Netflix show, what project they're working on around their house—my clients trust that I care about them as an individual and as a business partner. It's never just a business transaction for me.
Do you have a favorite quote or saying? "Smile, it costs nothing but gains much". One of my favorite books is "How to Win Friends and Influence People" by Dale Carnegie. Such a small gesture can make the biggest change in someone's day. The simplest thing you can do is smile, it can light up the room and it makes you feel good instantly as you do it.
As Julie moved up in the company, she also moved across the country with ExamOne. She began her ExamOne career in Cleveland, then to the West Coast as a Regional Sales Manager and now as a Vice President residing in California with her husband. She is still on the move by finding unique experiences on her travels to 24 different countries. Julie says she will go even more places and expand her horizons – professionally and personally.
---
Field Leader of the Year: Kelli Egan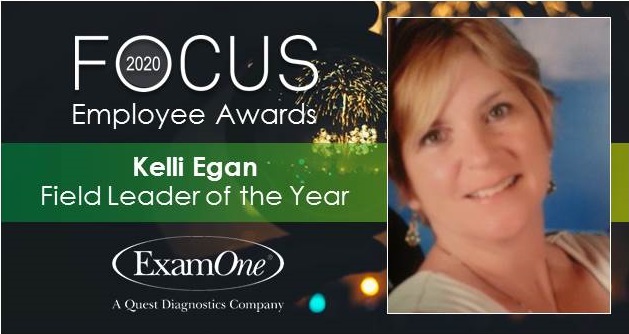 Eleven years ago, Kelli Egan made an important decision. Kelli says, "Not only had I accepted a new job as a Branch Manager at an ExamOne office, but I quickly discovered I had joined a larger team that was committed to making an impact on people's lives." Now she helps lead and manage multiple offices across the Southeast as a Senior Regional Manager. She shares some of the things that she has used to be a great team member and leader over the years.
"In 2009, I was fortunate to be part of Kelli's hiring process. Since then, we have witnessed her become a vital part of the Field Operations Management team. She has the ability to successfully identify service opportunities and develop those she works with. Kelli is a true asset to ExamOne." – Edwin Snider III (Bubba), Director of Field Operations
What's a tip that helps you serve ExamOne clients better?
I embrace challenging situations and take the time to communicate with our internal and external customers as well as our extensive workforce. Our company has a lot of talented and knowledgeable team members; I try to tap into all the experience when problem-solving. The way we respond to the situations that we are presented with is what defines us.
Do you have a favorite quote or saying, and why?
"Everything happens for a reason." I truly believe that good or bad, everything happens when it is supposed to, even if we don't understand why eventually it makes sense. When you recognize the challenge, make a plan that will help you drive the outcome.
When Kelli isn't with her work family she enjoys spending time with her children and grandchildren playing games and working in her yard. A decision 11 years ago resulted in Kelli making an important impact on her coworkers and customers' lives.