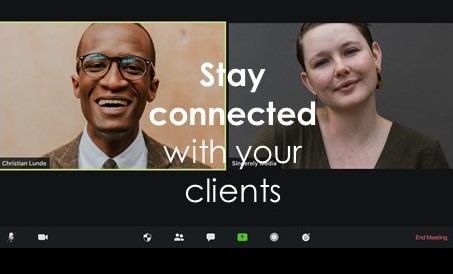 Keeping your customers interested and invested in your business is more important than ever. It may present a difficult pivot for life insurance agents and other careers that traditionally rely on a lot of face-to-face interaction. However, with the right tools and some creative thinking, you can connect more virtually and maintain close relationships with clients.
When your clients are used to speaking with you in person, it's important to still have some of that "visibility." The common method now is video calls and conferencing. Although, it may not be everyone's favorite method after the extensive use since the pandemic began, when done well it's an effective communication tool.

Hints to help have a professional video call
Prepare and test video before your call. Feeling confident is the key to looking better on video calls. You can create that feeling by being well-prepared. Prepare any material you might need beforehand and test the technology, audio, and video if not familiar with use.
Set a flattering camera angle and distance. The best camera angle is head-on and at eye level. You don't want people to feel like they are looking up or down at you. Adjust your camera or your sitting position so your image is framed well. Also, facing the brightest source of light (usually a window) will provide a bright and flattering image. Find more tips to look your best on a video call here.
Make your profile picture and background image professional. It helps to reinforce your professional brand by having a professional headshot and clean background. You could also add branding, like your company logo, to either image. Clean backgrounds also help reduce any distractions.
Online tools to simplify the life insurance application process
Even before the world went virtual, ExamOne had developed tools to make the life insurance exam process more convenient. These tools also happen to be perfect to use for today's consumer-friendly online experience.
Online ordering. Manage all the life insurance exam requirements through ExamOne.com. By ordering online, you can save time and track status 24/7.
Email scheduling. When an email is included on the life insurance application, the ExamOne system sends out an email with a link to access online scheduling.* Then the applicant can also receive email appointment reminders and a survey to gather feedback after their exam is completed.
Texting options. Consumers can opt-in with ExamOne for text notifications. For clients participating in ExamOne's online laboratory results program, Inside Look®, applicants will receive a text message when their results are ready if they supply their cell phone number and sign a TCPA opt-in consent on the laboratory slip during the exam.
A more virtual world does not have to mean a less personal experience with your clients. Using technology and online tools can help you stay connected and perhaps provide an even more convenient and effective process.
*Applicant scheduling and appointment reminder emails are based on carrier participation.