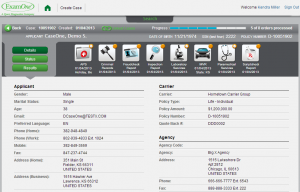 We continue to prepare for our pilot phase of the ExamOne Portal. This new web application will replace our existing ordering websites and create a unified, next-generation experience for our client users to view orders, statuses, and results. As we continue to enhance the ExamOne Portal, additional functionality will be incorporated to facilitate the management of all requirements in a single location.
Our initial release of the ExamOne Portal will replace the "Paramedical Exam" site for users placing and viewing paramedical orders through ExamOne.com. Functionality has been expanded to now indicate when the specimen kit has been received at the laboratory, and also when the specimen testing has been completed. This feature will be available for only those orders that utilize both Paramedical and Laboratory services through ExamOne, allowing users to stay continually informed on the status of their applicant's requirements.
Look for more communication about the ExamOne Portal and the anticipated user transition beginning in January of 2014.