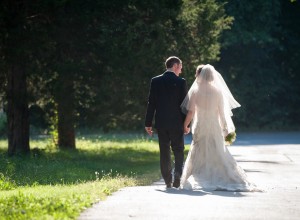 When my husband and I became engaged, all the usual planning questions began racing through my head. What venue should we choose? What kind of flowers do I want? And – most importantly – how many cake flavors can I have?
We also made dates to sit down and talk through our current financial situation and our goals for the future so we knew we'd be on the same page after the big day. Our plans included how we would reorganize our bank accounts and investments, as well as adding each other to our car insurance policies. It seemed we had checked off all the boxes – except for one.
Now that we're married and our financial responsibilities have expanded, we've realized the value of life insurance coverage. It's easy to say we don't need it since we don't have children yet, but there is still a lot at stake. Life insurance will protect us if one of our lives is taken early. Without coverage, expenses for two people would have to be paid out of one income, and for many newly married couples this can be devastating. Life insurance will put both of our minds at ease knowing the other wouldn't be forced to face a financial struggle in the midst of coping with the loss of a spouse.
Another reason why we're getting covered now is our age. We're young and healthy and policies are generally more affordable at this time in our lives. Plus, we never know when one of us could develop a medical condition that may lead to higher rates.
According to a 2015 study by LIMRA and Life Happens, 48% of Americans 25 to 44 years old do not have life insurance. Nearly half of people in our age group, who may be going through the same life experiences we are, are not protecting themselves or their loved ones with life insurance. Life insurance doesn't just protect children from the consequences of a parent's premature death – it safeguards families of all types, ages, and sizes from a financial crisis. That's why my husband and I are committed to protecting the life we're building with life insurance.
---
Not married? There are still plenty of reasons to get covered.