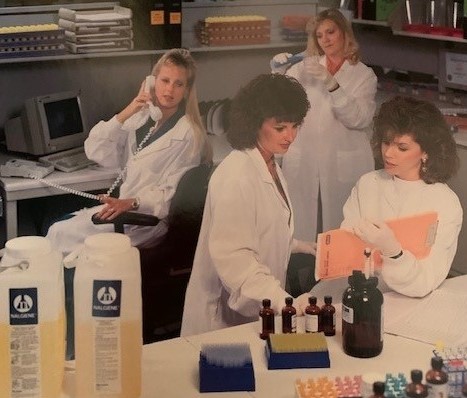 Women's History Month in March is a time to celebrate women's contributions to history, culture, and society. It has been observed annually in the month of March in the United States since 1987. At Quest Diagnostics we are proud of our female workforce. With 50,000 employees, 72% are women, with over 55% of management roles held by women.
Some of our ExamOne leaders and tenured employees share their reflections on women who influenced and inspired them.
Overcoming odds to medical discoveries
Betsy Sears, Senior Vice President Laboratory Operations – 36 years at ExamOne
As we celebrate ExamOne's 50-year anniversary and Women's History Month, I think back upon all the female scientists and medical professionals from the past who have made what we do in the laboratory today possible.
One specific pioneer comes to mind that I learned about during my Med Tech internship. I took a specialized class on tuberculosis and was introduced to the groundbreaking research conducted by Dr. Ruth Ella Moore. Her research from 1936 was key in the eventual treatment of this devastating disease. She was also the first African-American woman to be awarded a Ph.D. in a natural science. She persevered against countless odds to accomplish great things and continued to share her knowledge and passion by teaching into her 70s at Howard University.
Her breakthroughs helped pave the way for countless more women and other medical discoveries. Dr. Moore inspired me as an intern, and still today, on how she excelled in the male-dominated field. Her contributions will never be forgotten. Thank you, Dr. Moore.
Our turn to help others live authentic lives
Annette Mitchell, Senior Vice President, Commercial – 7 months at ExamOne
As one of very few openly gay leaders at ExamOne and Quest Diagnostics, it has become so important, now more than ever, to live our authentic lives both at work and at home. It's not just for ourselves, but for our colleagues and employees so they can thrive and know this is a safe and inclusive place to work. As we celebrate ExamOne's 50-year anniversary and Women's History Month, I think about female leaders like Billie Jean King, Ellen Degeneres, Tammy Baldwin (first openly LGBT woman elected to congress), and so many more, who paved the way for me to be able to safely come out at work. Now it is our turn to continue paving the way for those coming up behind us.
Foundation full of female mentors
Carla Wiseman, Strategic Sales Executive – 37 years at ExamOne (top picture, far right)
I began in the laboratory in 1985 and remember the supportive and encouraging environment from my female colleagues. We have always had a strong female presence in our lab which opened doors into other areas of the company for many of us. The support of my colleagues and the knowledge I gained in the laboratory have helped me work with clients in my account management and sales roles. Knowing the technical aspects and processes allows me to more effectively communicate with clients on the services they use or need. I will always be grateful for that foundation and my female mentors.
Breaking barriers for generations
Jane Strohm, Director, HR Business Partner – 4 ½ years at ExamOne
"The power I exert on the court depends on the power of my arguments, not on my gender." – Sandra Day O'Connor
My daughter is fortunate enough to have always known women on the Supreme Court. However, that hasn't always been the case. I'm lucky to remember both the first and second female justices being appointed. Sandra Day O'Connor became the first female justice in 1981 and then Ruth Bader Ginsburg become the court's second female justice, as well as the first Jewish female justice, in 1993. Until these ladies joined the court it had been male only since 1790.
"So often in life things that you regard as an impediment turn out to be great good fortune." – Ruth Bader Ginsburg
These women broke down barriers that benefit my, my daughter's, and future generations. It's very good fortune for everyone that women are represented in the highest court. I'm happy that I witnessed such major milestones and excited and hopeful of what other achievements for women my daughter will enjoy.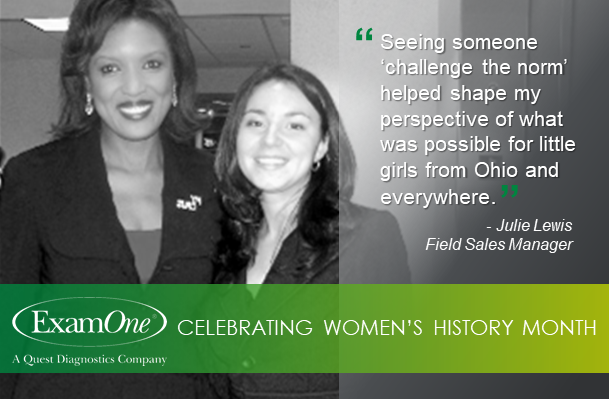 Seeing what was possible
Julie Lewis, Field Sales Manager – 16 years at ExamOne
I grew up in a small town in Ohio and idolized Cleveland Hall of Fame broadcaster Romona Robinson. Every night we turned on the news and she was the only woman I saw in the male-dominated industry of the day. She was also the first African American woman to anchor a nightly newscast in Cleveland.
Watching her during my formidable years ignited something in me to want to be a strong woman in business or even on the news, like her. Romona's confidence, professionalism, and gracefulness were remarkable for me to watch. I wanted to be just like her and practiced my interview skills on our pets while my cousin videotaped me.
In the early days of my career, I was honored to meet Romona during a random elevator encounter – we practically bumped into each other. I was ecstatic to have the chance to tell her she had been my role model. Seeing her succeed and "challenge the norm" helped shape my perspective of what was possible for little girls from Ohio and everywhere.
Hope during horrific times
Kathy Willms, Director of Call Center Operations – 35 years at ExamOne
"How wonderful it is that nobody need wait a single moment before starting to improve the world." – Anne Frank (1929-1945)
This quote is so powerful. No matter your generation, we should never forget that each one of us should do our part to improve our world. These words and the story of a German Jewish teenage girl during a terrible time in history can still educate us on love, hope and strength. Her diary was published after she and her entire family, except her father, died in concentration camps. Today, The Diary of Anne Frank has been translated into almost 70 languages and helps the world never forget.
Leading by example starts at home
Barb Nelson, Specimen Processing Manager – 42 years at ExamOne
"I am not a man nor a minister, yet as a mother, I felt I ought to do more than I had yet done. I resolved to begin with my own children, in which I observe the following method: I take such a proportion of time as I can spare every night to discourse with each child apart." – Susanna Wesley
I am proud of my long-standing career at ExamOne. But my greatest pride comes from my children and being their mother. That's why a woman that inspires me is Susanna Wesley (January 20, 1669-July 23, 1742). Susanna was the 25th child of 25 children and had 19 children of her own including sons John and Charles (the founders of Methodism). She placed high regard on the education of her children including her daughters. Although she never preached a sermon, published a book, or founded a church, she is often referred to as the Mother of Methodism. She led by example and her teachings and home life shaped her children, including the sons who formed the independent Methodist movement that continues to this day. I'm sure Susanna was a proud mother too.