Today, more than 30 million Americans have diabetes, with 7.2 million still undiagnosed. Additionally, the Centers for Disease Control (CDC) estimates there are 84.1 million people with pre-diabetes. [1] Each November, during Diabetes Awareness Month, we are reminded to focus on the growing crisis and share knowledge about diabetes and its impact on millions of Americans.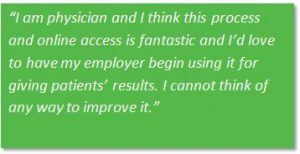 Actions for change
The CDC and the American Diabetes Association (ADA) are working to reverse the diabetes epidemic in America. As a leader in the life insurance industry, ExamOne has been contributing to that cause since 2016, when it became the first company in the industry to update insurance profiles to include A1c testing on all applicants. Based on this testing we have found that 73.5% of pre-diabetics (A1c 5.7-6.4) and 17.8% of presumptive diabetics (A1c 6.5+) pass unreported to underwriting.
For those who are diabetic or pre-diabetic, maintaining a healthy, active lifestyle is critical in managing the disease.
Stay active ­– A simple 20- to 30- minute walk each day can help spur weight loss and improve Body Mass Index (BMI). In individuals with type 2 diabetes or pre-diabetes, maintaining a healthy weight can help lower insulin resistance.
Eat well – Managing diabetes doesn't mean you have to sacrifice tasty foods. Check out some of these fun, healthy recipes from the ADA.
Know your health – Although many Americans do not receive regular health check-ups with their primary care physician, it's important to know current health status to stay ahead of diseases like diabetes. Known diabetics should have regular check-ups and monitor their blood glucose daily.
Results for a healthier life
As part of the life insurance process, applicants can view their laboratory results securely online at MyExamOne.com within two weeks of their exam. Knowing these results helps increase awareness of their current health status and empowers applicants to lead a healthier lifestyle if needed. Learn more about ExamOne's Inside Look® online laboratory results at ExamOne.com.
[1] https://www.cdc.gov/diabetes/pdfs/data/statistics/national-diabetes-statistics-report.pdf