As a leading provider of decision support products for life insurers, we are excited to support one of the industry's important initiatives – Life Insurance Awareness Month (LIAM). Today, nearly 60% of adults own some type of life insurance, but research shows the coverage they have may not be enough. More than one-third of all households say they would feel adverse financial impacts within a month if their primary wage earner died.[1]
This year ExamOne President, Stuart Smith, will be participating in his first Life Insurance Awareness Month. "I think it is great to see the industry come together to help raise awareness on the importance of life insurance. It plays a critical role in a family's financial planning, and our goal is to ensure our part of the process is easy and convenient for each applicant we touch."
To help applicants during the life insurance application process, our dedicated website, MyExamOne.com, offers resources to help consumers feel prepared and at ease while completing their life insurance journey. From frequently asked questions to accessing the results of their laboratory tests, applicants use this site to better understand what they can expect during the medical history interview and paramedical exam.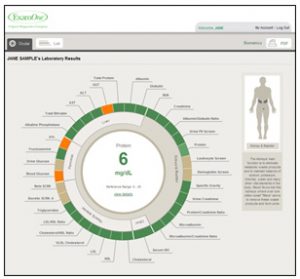 Additionally, we are excited to help empower applicants with access to their personal health results. Through Inside Look® and our new Inside Wellness® reports, applicants receive their laboratory results after their paramedical exam is complete.* Each of our wellness reports have been recognized as game-changers in the industry and have been finalist of the Life Insurance Direct Marketing Association (LIDMA) Innovation Award. Inside Look was a finalist in 2017 this year Inside Wellness is a top finalist. From an interactive online platform to a comprehensive wellness report, applicants stay engaged and encouraged to live a healthier lifestyle.
For more information on ExamOne.com and Life Insurance Awareness Month, you can visit https://www.examone.com/life-insurance/.
---
[1] 2018 LIMRA and Life Happens Insurance Barometer Study