In the fall of 2018, ExamOne launched our expanded exam center network by adding hundreds of Quest Diagnostics® Patient Service Centers (PSC) to our life insurance exam network. This year we're adding even more Quest locations to provide convenient options for life insurance applicants across the country. With access to more than 2,000 exam center locations, life insurance applicants have the convenience of choice not found anywhere else in the industry.
Exam centers deliver higher completion rates and faster turnaround times
Based on an analysis of exams completed between January 1 and August 31, 2019, those completed in-center (at an ExamOne office or Quest PSC) showed the highest completion rates and fastest turnaround times. Exams scheduled at an exam center were, on average, completed 90% of the time, compared to 73% for mobile exams. Additionally, exams were completed in less than 11 days at in-center locations, compared to over 12 days for mobile.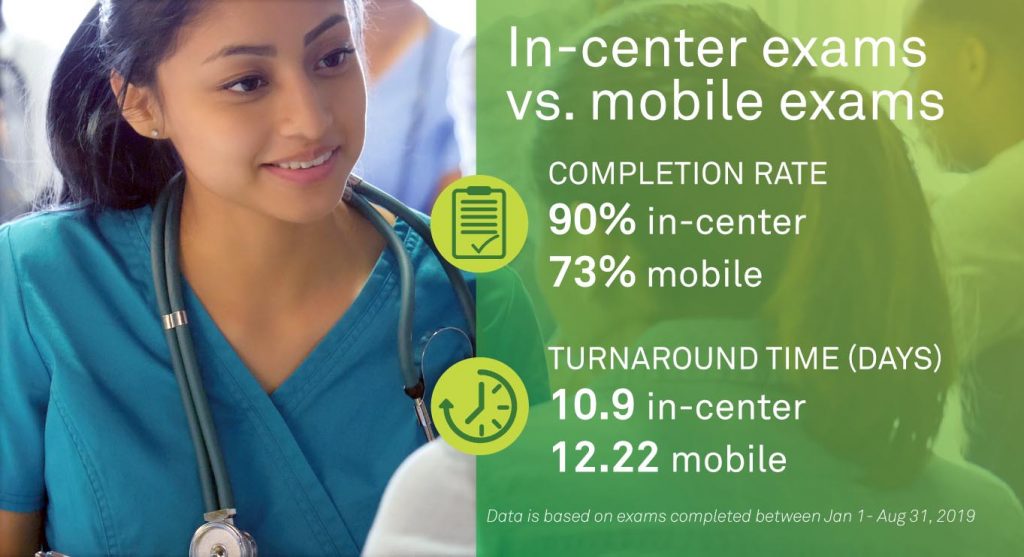 Analysis by generation
In-center exams show the highest completion rates across all generations, with 90% of scheduled in-center exams being completed among millennials and Gen Xers, compared to completion rates for mobile exams at 77% and 74%, respectively. The greatest difference in completion rates appears in the older age groups. This could be attributed to a greater sense of comfort in visiting a medical office if individuals in the two older generations visit PSCs regularly for other age-related health screenings.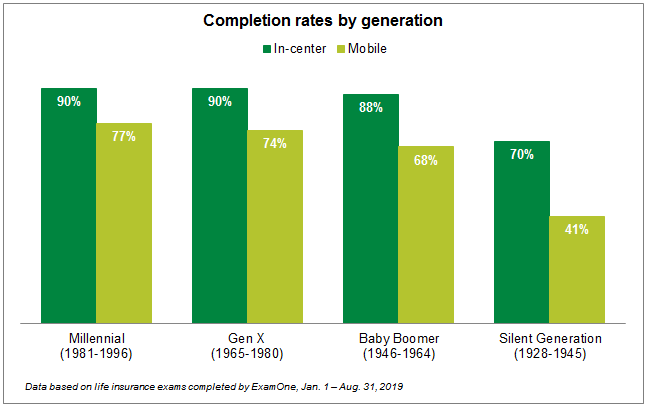 Exam center options deliver faster turnaround times for all generations in comparison to mobile, but we see the fastest results in the two oldest generations, with just 7.2 days for the silent generation. It is possible this is related to the applicant's daily schedule when considering that many in this generation are likely retired or working part-time, while baby boomers are moving closer to that stage of life as well.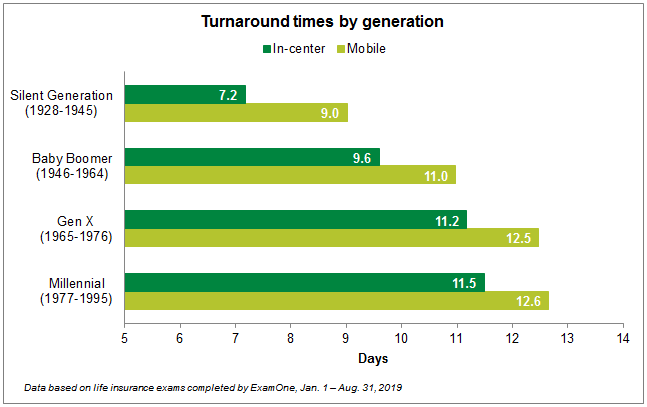 Interestingly, there was little to no difference in both completion rates and turnaround time when comparing gender within these generations.
Analysis by face amount
Completion rates and turnaround times also vary across face amounts. For reference, in 2018 the average face amount of policies for which exams were completed by ExamOne was $500,279, while the median was $250,000. Again, we see exam centers consistently deliver higher completion rates in comparison to mobile exams.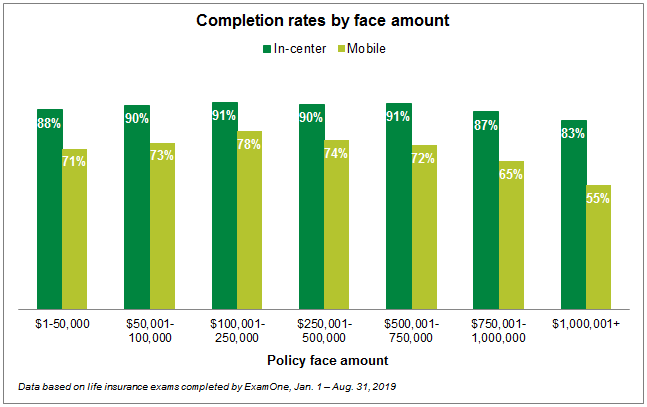 Turnaround times for exam centers are generally more than one day faster than mobile. Additionally, higher value policies are correlated with the fastest turnaround times, as face amounts over $1 million average a 10.7 day turnaround.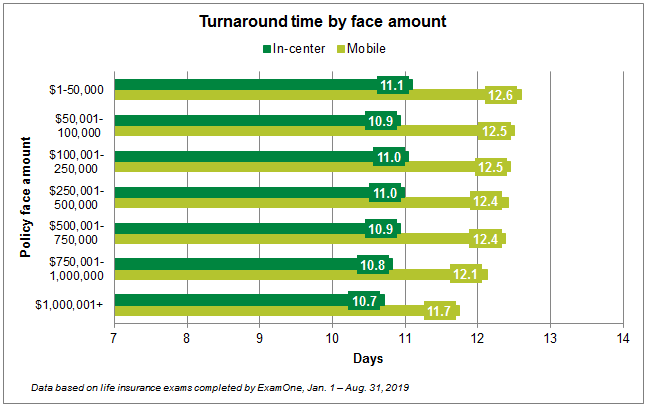 Applicants want convenient choices
Applicant choice is also an important factor to consider when it comes to the location of the exam. Between January and August 2019, nearly 6,000 life insurance applicants completed ExamOne's applicant satisfaction survey after their exam at an ExamOne or Quest office. Of those, 48% said they chose the in-center location because it was the most convenient place for them. Others indicated the in-center locations offered the best appointment time for their schedule (19%), or that they felt most comfortable completing the exam there (15%).