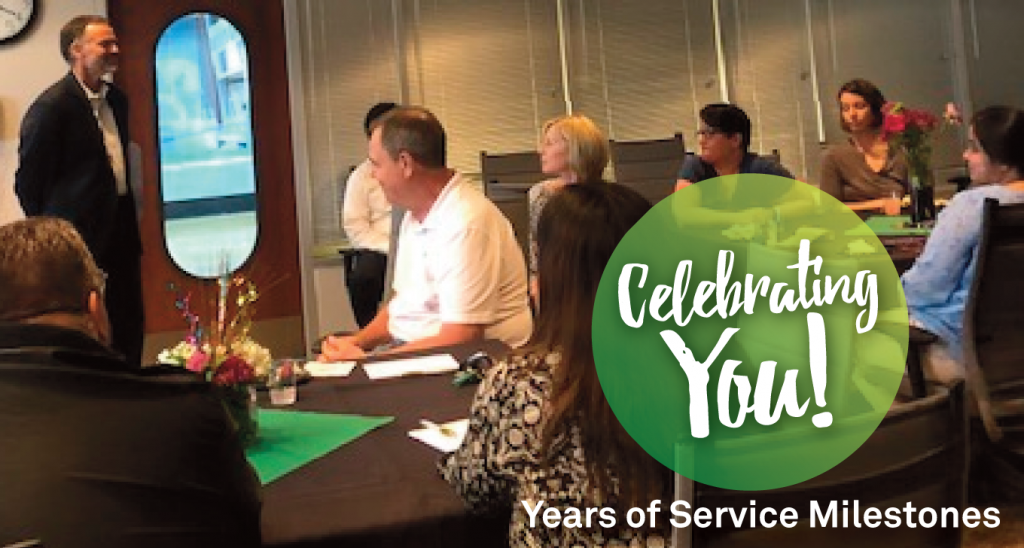 Last week, we honored thousands of colleagues during our annual Recognition Day by recognizing employees' milestone service anniversaries. The efforts and commitment of our long-time employees help us continue to create inspiring workplaces for all of our employees.
This year, we recognized more than 5,700 team members who are reaching a Quest milestone anniversary—five years or more, in increments of five years. ExamOne employees made up 131 of those employees.
Celebrations were held across the company and the country, including a reception at the Lenexa laboratory for the 15-, 20- and 25-year milestone employees. ExamOne President Stuart Smith congratulated the honorees, saying, "I truly appreciate your dedication to ExamOne. Your years of service have certainly contributed to our success – in the past, present, and the future."
Join us in sharing our appreciation to these employees for reaching significant milestones.
---
15 YEARS OF SERVICE
Andrea Cooksey
Terry Larsen
May Lau
Chantal Galarneau
Carmelle Cormier
Daniel Malats
Tina Sims
Jennifer Wilson
Kristen Meythaler
Debra Skalisky
Diana Rabagh
Patricia Pines
Elizabeth Johnson
Mychele Showalter-Cole
Jane Yianakopolos
Crystal Campbell
Jeanna Tuite
Margie Paymon
Robert Johnson
Christen Belcher
Michelle Shaffer
Vicki Rodriguez
Tonya Brocket
Nilda Carrillo
Grant Mott
Marnie Vieselmeyer
Tracy Ingwerson
Wendy Macrorie
Paul Walker
James Van Ekeren
David Dewhurst
Jason Day
Regina James
---
20 YEARS OF SERVICE
Kelly Berry
Donna Weiland
Monica Learned
Cory Stout
Esther Kwon
Quinetta Coleman
Gwendolyn Rowe
Peter Warchola
Mahnoor Shabbir
Kendell Shull
Vera Ann Dowdle
Emilia Fiedler
Mary Canada
Michelle Castaneda
Leon Huynh
Janice Jones
Rika Byrne
---
25 YEARS OF SERVICE
Sheila Barkun
Bob Morris
John Clark
Kaye Smith
Thank you to these individuals who have not only shown long-term dedication but have also helped shape the company we are today. They have all contributed to our company's proud history. Read more about some of our other ExamOne committed employees.