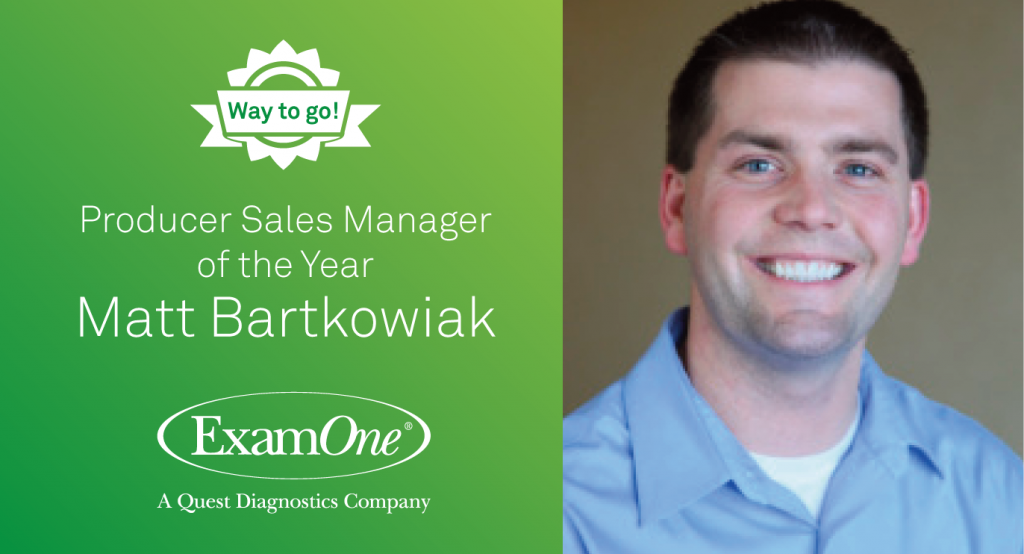 At ExamOne we're committed to helping protect loved ones with life insurance. Our employees are a crucial element in our success. Each year, we recognize the efforts of the hardworking employees who are proven leaders in demonstrating our commitment to the life insurance industry.

We recently connected with each winner to learn more about them and what it takes to become successful members of the ExamOne team.
Meet more of our award-winning employees.
Matt Bartkowiak
Award: Producer Sales Manager of the Year
"Matt is a natural leader with a high level of integrity and is always looking for ways to improve his communication skills. He and his sales team are dedicated to putting customers first each and every day. That is why he was recognized as one of our top performers and sales leader." – Dan Kemp, Sales Leader
Time with ExamOne: 13 years

What's the most rewarding part of your job or what do you love most about it?
One of the most rewarding parts of my job is being involved in the growth and development of our people.

What's one unique strategy that helped you win business or serve our customers in 2018?
A shift in mindset with a simple daily to-do list: Replace have to with get to. This simple shift in thinking has tremendous value and leads to positive results in our daily interactions.
Favorite quote or saying?
"Three things you control every day are your attitude, your effort and your actions" – Jon Gordon
What do you like to do in your free time?
First and foremost I enjoy spending time with my family. My wife and I have a 4-year -old son named Aden and a 9-year-old golden retriever named Tipsy. I have a passion for the outdoors, enjoy reading and staying active through sports and exercise.