Our stories of gratitude happen all year long. We appreciate our employees giving back not just during the holiday season, but throughout the year. The organized employee charity efforts for ExamOne are spearheaded by a volunteer committee called QuestCares. We firmly believe that our greatest assets in serving the community are the employees of ExamOne and Quest Diagnostics.
"It's always inspiring to see our employees support worthy causes and organizations. The big and small efforts of buying raffle tickets, bringing in donations and taking time to volunteer and participate in local events all add up to a large impact for our community," said ExamOne President Stuart Smith.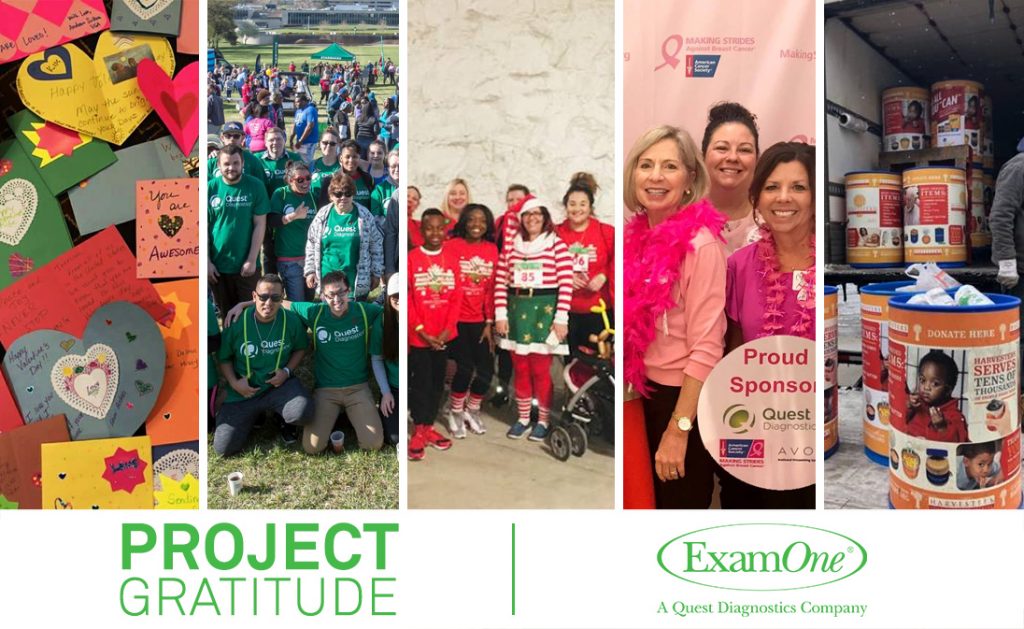 Some of the ways employees showed our communities how much we cared in 2018
Special Olympics
For the 8th year, our employees supported the Kansas Special Olympics Torch Run. Employees donated gift baskets that were raffled off to support the mission of the Special Olympics to provide individuals with intellectual disabilities the opportunity to be an athlete… and more… through acceptance, inclusion, physical fitness, health and nutrition programs, and leadership development. The raffle raised more than $1,000.
Ubuntu Foundation
This year, ExamOne partnered with the Ubuntu Foundation during our annual national convention. Ubuntu creates meaningful jobs and implements pediatric health and educational programs in Kenya. Attendees showed their creative side by making Valentines for each of the children at Ubuntu's Special Needs Center in Maai Mahiu, Kenya. See the smiles when the children received our packages.
Fight Colorectal Cancer
During Colorectal Cancer Awareness Month in March, employees planned fun spring fundraising events, including rubber duck surprise prize drawing, a "bunny" gift basket and baseball ticket raffles. All proceeds benefit Fight Colorectal Cancer organization. During the events, employees were also encouraged to participate in an InSure® ONE™ Colorectal screening program offered to employees.
AIDS Walk
Quest Diagnostics nationally supports AIDS Walks across the country. Our ExamOne, Quest Diagnostics Employer Solutions, and Quest Diagnostics Health & Wellness teams showed support for the Kansas City community by sponsoring and walking in the 30th annual AIDS Walk Kansas City in April. Employees raised thousands of dollars and helped spread the message that screening saves lives.
American Cancer Society (ACS) Making Strides Against Breast Cancer
In addition to being the corporate "starting line" sponsor of the ACS walk, our employees raised almost $8,500 – making us the second highest fundraising team within our company. To help raise money and awareness the month of October was full of fun employee activities like a designer purse raffle, pink flower sale, T-shirt sales and auctioning a front-row parking spot.
Harvesters – Community Food Bank
Overflowing food barrels throughout our facility showed the success of a canned food drive for the local food bank, Harvesters, during November. Employees filled 63 barrels and 2 pallets weighing in at 8,249 pounds. That was two times more than last year's collection. Our Lenexa, Kan. site has supported Harvesters for years. See how our Employer Solutions group participated in team building there in the past.
Arthritis Foundation Jingle Bell Run
As the local flagship sponsor of the Kansas City Jingle Bell Walk and Run, our employees dedicated their time to raising funds for the nation's largest holiday 5K race series aimed at fighting arthritis and helping lead the way in conquering the nation's leading cause of disability. Our employees manned a booth at the walk that promoted Quest's direct laboratory testing services to walk participants. The walks across the country raised more than $6 million.
The Salvation Army Angel Tree
Every year, employees show support for local deserving families by "adopting" angels from The Salvation Army Angel Tree. This year, more than 20 families will have a brighter holiday because of gift donations from our Kansas City employees.
"We couldn't have helped so many worthy organizations this year without the support and dedication of our employees. Our teams realize how fortunate we are to work for an organization that believes in caring. During work, we "care" for life insurance applicants, patients, and our clients' needs. Outside of work, we get to show that we "care" through community involvement," said Carla Wiseman, ExamOne Strategic Account Executive and employee volunteer committee leader.
ExamOne actively supports charitable organizations in the communities where we live, work and serve. We believe in giving back and encourage our employees to pay it forward by showing and sharing gratitude. It's not just a project for us – it's our culture.