Are you providing the applicant's email address when you place the order with ExamOne?
Here are four reasons why the applicant's email is important:
Improve exam cycle time

When the applicant's email address is provided on the case, we will email* them an appointment confirmation with important details prior to their exam. If you're not able to settle on an appointment time when you place the order, we can email* the applicant instructions on how to use ScheduleNow™ to book their own appointment at a time and place that is convenient for them.

Enhance the exam experience

Applicants will receive an email* with a checklist and links to our applicant-focused website, MyExamOne.com. Here they can find frequently asked questions and helpful information to feel prepared for the exam.

Empower applicants with health insights

A comprehensive wellness report on an interactive online platform engages applicants and encourages them to adopt a healthier lifestyle. Within 7 to 14 days of the completed exam, we'll notify the applicant by email that their results are ready and provide instructions on how to easily and securely access their laboratory results*.

Give applicants a voice

Feedback from your applicants is a powerful way for us to gauge how we're performing during the paramedical exam process. Applicants receive an email* reminder to complete a short survey and tell us about their exam experience.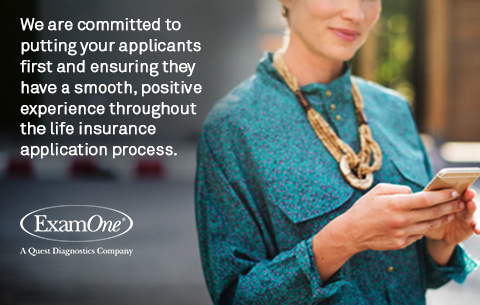 We are committed to putting your applicants first and ensuring they have a smooth, positive experience throughout the life insurance application process. Providing the applicant's email address is a helpful way to enhance the experience and empower better health.
*Subject to the insurance company's participation in this service