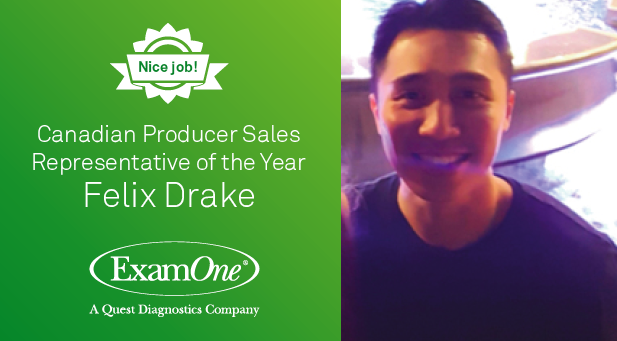 ExamOne is proud of our extensive presence in Canada. When we celebrate our teams, we are excited to highlight our dedicated employees who support our Canadian clients. Helping our clients protect more families with life insurance is the goal in all the countries ExamOne serves.
Felix Drake
Canadian Producer Sales Representative of the Year
"Felix has an amazing ability to connect with customers and forge strong relationships in addition to having one of the strongest sales representative/branch manager relationships in the company. The combination of these internal and external connections is a key driver in their overall success." – Matt Bartkowiak, Sales Manager
How long have you been with ExamOne? 7 years
What's one unique strategy that helped you serve our customers? Our office built a successful business by always involving the operations team, being accountable to our clients and referrals.
What do you like to do in your free time? In my free time, I like to swim and run, but above anything else, I enjoy anything to do with baseball.