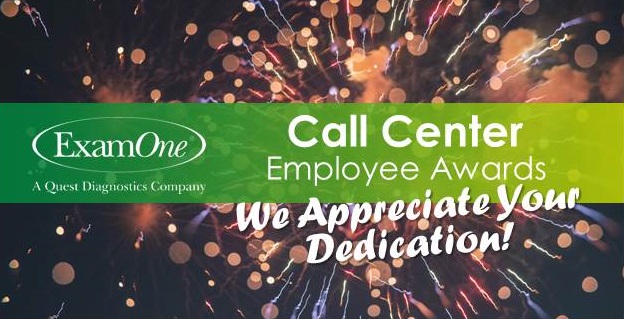 Call Center employees working from locations in Lee's Summit, MO; Sedalia, MO; and San Diego, CA, and working at home by the hundreds, are dedicated to effectively and quickly gather information for our clients. These employees play a vital role in helping our clients collect the data they need to make important decisions. 
"I am very proud of the employees behind the voices on the phone and the keystrokes on the computer who represent ExamOne and our clients every day. They are dedicated to being productive and professional to help meet the business needs of all our customers. Thank you for your commitment to providing superior service."
– Kathy Willms, Director of ExamOne Call Center Operations
We are proud to recognize some of our top performers.
Call Center Support Staff of the Year
Greg Smith
Honorable Mention for Call Center Support Staff of the Year
Roberto Barrero

APS Employee of the Year
Connie Ripperger
Honorable Mention for APS Employee of the Year
Kristen Fairchild
Teleunderwriting Leader of the Year
Luis Acosta Mesa
Honorable Mention for Teleunderwriting Leader of the Year
Spencer Trump
Scheduling Employee of the Year
Alex Chavez
Honorable Mention for Scheduling Employee of the Year
Kathryn Burton
Teleunderwriting Employee of the Year
Janet Flack
Honorable Mention for Teleunderwriting Employee of the Year
Brandi Harper