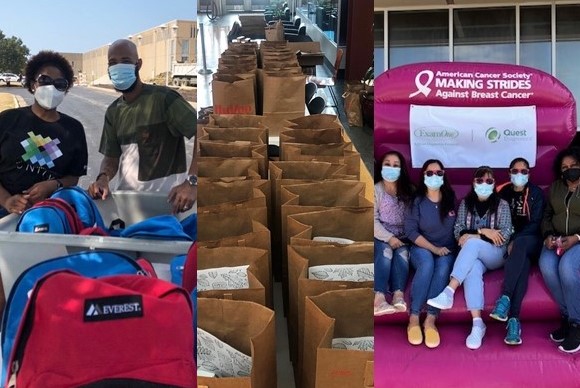 ExamOne and Quest Diagnostics actively support charitable organizations where we live, work, and serve. We believe in giving back, and encourage our employees to pay it forward by showing and sharing gratitude. Now, more than ever, our communities rely on the generosity of our employees during these difficult times.
How our employees have stepped up by giving back
Making strides for the American Cancer Society
Breast cancer is the 2nd most common cancer in American women. But diagnosis was down 52% as many deferred routine care early in the pandemic according to a Quest Diagnostics JAMA article. To help continue to raise awareness for the need for screenings and care, Quest Diagnostics and ExamOne remain committed to sponsoring events like the American Cancer Society Making Strides Against Breast Cancer Walk. In October of 2021, we were a sponsor of the walk for the 6th year, and our Kansas City team raised more than $6,000.
At ExamOne, many in our employee family have experienced the impact of breast cancer first-hand. We also shared some of those stories of their personal journeys and how others have stepped up to help. The stories helped humanize the disease and included a team member's current journey. Our Sales, Marketing, and Product teams contributed $1,200 in her honor at this year's walk in Kansas City.
Donating 13,500 meals to Feeding America
This May, ExamOne would have normally joined the life insurance industry at the national AHOU: Association of Home Office Underwriters conference. For the second year of a virtual meeting, we showed our appreciation for our clients' partnerships by assisting our neighbors in need with a donation of 13,500 meals to Feeding America. The contribution included a $5 donation for each attendee that visited our virtual booth.
50-mile challenge for Life Insurance Awareness Month
During Life Insurance Awareness Month, ExamOne sponsored a 50-Mile Challenge to raise awareness and donated $1,000 for the Life Happens COVID-19 Relief Scholarship. Employees stepped up to the challenge and tracked their movements on the Charity Miles mobile app and finished more than 3,000 miles.
Helping our employees first
Quest Diagnostics employee groups joined forces this summer and fall to ensure our own Kansas City-based employees were well equipped for back to school and Thanksgiving. In August, 115 backpacks full of donated school supplies were distributed to employees. In November, the groups composed of African American Leadership, Women in Leadership, Pride, and Quest Community Action Network, assembled grocery bags of holiday meal food staples. The week of Thanksgiving, 120 bags were made available to employees to help contribute to a fulfilling holiday.
Virtual food drive with double impact
All of the Quest Diagnostics divisions housed in Lenexa, KS (ExamOne's headquarters) combined forces for a 2nd annual virtual food drive. Employees can help feed deserving families with the click of a mouse for Harvesters, Community Food Network. The Quest groups (Employer Solutions, Employer Population Health, ExamOne, and the Great Midwest Clinical Division) also committed to match all employee donations up to $10,000. Last year our employees raised more than $8,000, with Quest's matching contribution bringing the total to $16,000. Every$1 raised helps Harvesters provide 3 meals to deserving individuals and families in the Kansas City area. At the end of the fundraising campaign this year, we hope to provide 60,000 meals.
In our quest to help others, we are expanding our culture of caring for our communities, charities, and each other. Thank you to our employees who give back not just during the holiday season, but throughout the year.